Free DITEL Capture Software
Sensing and Instrumentation specialists Vydas International Marketing has announced the availability of free data acquisition software to complement their Kosmos range of digital panel meters.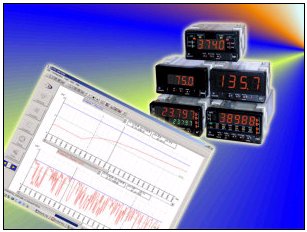 This allows a simple low cost recording system to be configured combining the appropriate sensor for the application and digital panel meter.
To facilitate the handling and storage of large amounts of data from any industrial process, the DITEL Capture software has been developed by DITEL (Spain) for data acquisition that can easily be recorded in Excel on a PC with the corresponding graphical representation.
This new software is the perfect simple solution to monitor and control any industrial process (and its subsequent analysis), which requires data to be recorded and a graphical representation of its data.
Ditel Capture has been developed for the family of Kosmos digital panel meters fitted with appropriate output card interfaces and allows connection for 1 to 32 different models including PICA100-P, MICRA_S, ALPHA_S, BETA_S and KAPPA.
This software is completely FREE for Kosmos digital panel meter customers and compatible with Windows operating systems 95, 98, Me, NT, 2000 and XP. The installation of this software can be setup in the following languages: Spanish, French and English.
Data acquired from several measurements is converted to graphs with up to four graphics simultaneously on the screen. Each graph is scaled separately so it is ideally configured for analysing the results.
DITEL Capture acquires data, represents graphically and stores readings for up to 32 of any instrument (from Kosmos Series), via serial port communication RS232 or RS485 and supports DITEL (ASCII), ISO 1745 or Modbus protocols.
For more information visit: