Franklin Electric Launches Pioneer Pump Vortex Series Pumps to Provide Robust Unique Alternative
Franklin Electric introduces the Pioneer Pump Vortex Series Pumps that eliminate costly and disruptive downtime by passing through the most challenging solids using a recessed impeller that avoids direct contact.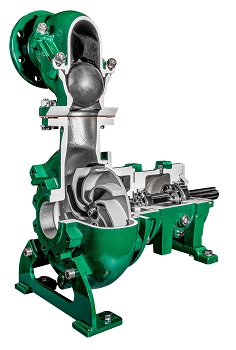 Pioneer Pump Vortex Series Cutaway (Image: Franklin Electric)
These pumps are ideally suited for waste handling, sludges, industrial effluent, chemical processing, and other applications where fluid conditioning, macerating, or mix-prevention are unnecessary. This is accomplished using vortex technology, which saves time and money in the most punishing applications by eliminating internal wetted parts, like wear plates and chopper blades, that would otherwise have to be monitored, adjusted, and replaced. Heavy-duty cast iron casing construction, an oversized stainless steel shaft, and a leak-proof run dry mechanical seal ensure maximum reliability and uptime.
A comprehensive range of electric and diesel packaging options are offered for fixed and portable installations and can be fitted with the industry-leading Pioneer Prime vac-assist system for suction lift applications. Vortex Series Pumps are available in 4x4, 6x6, and 8x8 sizes and cover flow rates up to 3,600 gpm and heads up to 150 feet.