Franklin Electric Announces Partnership with Star Island
Franklin Electric Co., Inc. announces its partnership with Star Island, the world's first-of-its-kind, off-grid sustainable island destination.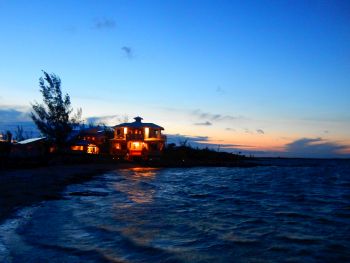 Franklin Electric
Star (Sustainable Terrain And Resources) Island, a 35-acre cay located off the northern coast of Eleuthera, Bahamas, is proving travelers can enjoy sustainability without sacrifice.
The island's integrated off-grid philosophy is employed to generate electricity using solar panels, producing pure drinking water from a reverse osmosis system running on Franklin Electric's solar powered pumps, and providing organically-grown food, highlighting just a few of the island's innovative green solutions.
Franklin Electric's new Fhoton SolarPak System was selected to supply the island with its potable water and will be the first of many pumping systems the company supplies for Star Island. Franklin Electric and Star Island are committed to further innovation with green pump technologies to assist with other water-based applications such as the removal of wastewater, decorative water features, and water pressure boosting applications.
The Fhoton SolarPak System features a Franklin Electric submersible pump and motor, and the Fhoton solar controller in one package. When used with solar panels to power the pump and motor, the system draws groundwater to the surface for a variety of uses. The system is an ideal choice for remote or "off grid" areas where delivering water is impractical due to the availability of electricity or for those that simply want to conserve energy. The catalyst behind this new system, the Fhoton solar controller, features a compact modular design, providing installation flexibility for the contractor. For added durability, it touts a robust IP66, Nema 4 enclosure that protects against wildlife, insects, dust, and weather. The controller includes diagnostic features and built-in protection from potential harmful conditions, such as: surge, underload (dry run), overvoltage, locked pump, open and short circuit, overheated controller, and reverse polarity.
The Franklin Electric Fhoton SolarPak System is cULus and UL approved and available in a variety of flow rates from 2.5 to 90 gpm (9.5 to 270 lpm) and power ratings of 0.75 and 1.5 hp (0.55 or 1.1 kW). Fhoton's motor control algorithm and hardware design enable the end user to get a higher solar- or photon-to-water energy conversion ratio, which means more water with less sunlight needed. It can drive a broad range of submersible and surface motor types and can be used in a new solar array or retrofit to an existing array in many cases, providing added application flexibility.
The Fhoton SolarPak System supports a variety of pumping applications, including: livestock watering, tank/cistern filling, wildlife refuge and game farms, rural water supply for villages and homesteads, irrigation systems, fountains, vineyards, renewable energy projects, effluent pumping, rain harvesting, and more.
"We are so honored to be a part of the Star Island initiative. Franklin Electric remains dedicated to providing the market with new products, systems, and services to address application challenges, so we appreciate Mr. David Sklar's pioneering vision and contribution to the ever-growing green initiative. Like most locations globally, Star Island has ample sunlight to run a solar pumping system. Given the fact that solar panels are as cost effective as ever and delivering water via the grid is impractical, in this case, due to the unavailability of electricity, the Fhoton SolarPak System is an ideal choice for this project," said Mr. Don Kenney, President, North America Water Systems and Vice President, Franklin Electric Co., Inc.
Against incredible odds and with limited resources, Star Island Bahamas set out on a mission to be the world's first sustainable island destination, with guilt-free comfort to demonstrate that a desirable carbon-neutral lifestyle is both possible and realistic.
According to the project's founder and CEO, David Sklar, a Bluffton, South Carolina 'eco-tect' recognized for his innovative design solutions, "Our development priorities include showcasing the latest clean technologies, sustainable products and green building, all with an eye to being able to scale and replicate the project. We envision the island as a blueprint for the future, reducing the learning curve for others in the fight against pollution of the planet and climate change."
The first phase of the project featuring The Beach Bar & Grill, beach cabanas and Organic Island Garden opened to the public this spring. Visitors now can enjoy lunch by the beach featuring organic island-grown produce and fresh local catches. Activities such as bone fishing, kayaking, paddle boarding, snorkeling, birdwatching and spotting sea turtles are also available. Guests can also book the island for private events to create the perfect wedding, party or secluded escape in a natural and exclusive setting.
Star Island recently opened its first overnight stay unit called "The Nest", offering guests an opportunity to take a sustainable lifestyle for a test drive. The Nest is a 650 sq. ft. suite located only a few steps from the beach, Organic Garden, and The Beach Bar & Grill. It features a modern Caribbean design with private balconies offering amazing views of its crystal turquoise waters – a perfect getaway for couples looking for a relaxing retreat. The Nest is open for reservations.
Phase 2 of the project, includes construction of beachfront bungalows, as well as expansion of the power and water systems and the construction of a hydroponic greenhouse and aquaculture program.
The island is conceived as an ongoing project, where guests can get involved and experience something new and interactive: whether helping harvest produce, plant a tree or creating an artificial reef, it s sure to be a visit to remember.