Flygt's New Force in Dewatering
The 2600 Series is the most important product launch since the Bibo pump range was introduced 30 years ago and provides a new standard in dewatering pump technology. The range meets ever increasing ...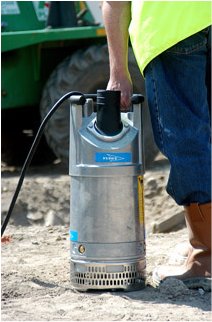 photo: ITT Flygt.
... customer demands for consistent performance over time and economy and consists of six models replacing 11 models within the existing Bibo range.
Commenting, Flygt product manager Simon Jones, said, "The need to keep operations moving is a key driver for all operators. The 2600 pumps have been designed to do just that - with innovative Dura-Spin™ hydraulics, fewer components and an overall design that makes the whole range simple and quick to maintain. Commonality of spares also contributes to a low cost of ownership."
The six pumps in the range cater for many tough dewatering applications of every size by utilising motor sizes from 1 to 18 kW, discharge sizes from 2" to 6" and output flows from 36m³/hr to 324m³/hr.
As well as the patented Dura-Spin™ hydraulic system, features include a one-piece Plug-in™ seal, a single trimming screw and the unique Spin-Out™ protection system.
The design of the impeller aims to prevent abrasive particles reaching the impeller neck, considerably increasing durability during normal operation and snoring. The closed high-chrome cast iron impeller maximises efficiency and minimises wear. The one-piece Plug-in™ seal provides faster, simpler replacement. Its design also protects seal surfaces during disassembly and mounting.
A single trimming screw allows fast and easy impeller trimming for optimal performance sustained over time. Finally, unique to ITT Flygt is Spin-Out™, a patented design to protect the outer seal and extend service life by expelling abrasive particles from the seal.