Energy-Efficient Cooler With Continuously Variable Speed Control
KTR Kupplungstechnik has ranked among the leading manufacturers of hydraulic components for stationary hydraulic drives for many years. Now the supplier of subsystems located in Rheine has extended its range of high-performance coolers by an energy-efficient series for 24 volt drives. The highlight of the recently developed Eco coolers is their continuously variable speed control adapting the demand for cooling power energy-efficiently.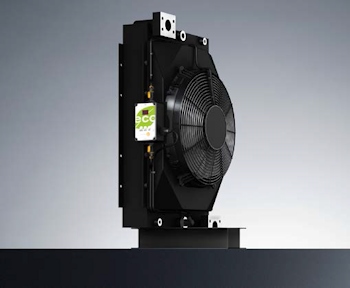 The Eco cooler is an advancement of the OAC standard series (24V)(Image: KTR Kupplungstechnik)
"For this reason KTR is the first supplier launching a cooling system with continuously variable speed control for stationary hydraulic drives onto the market", reports Christoph Bettmer, Product Manager. The core of the new Eco series is the control unit which was specifically developed. It measures the oil inlet temperature by means of a sensor and controls the variable speed motor for cooling the machine efficiently based on the details measured. The benefits of the continuously variable speed control are mainly the optimized energy consumption which contributes significantly to savings in the life cycle costs of the machine. In addition, it reduces the noise emission many times over, in particular in the lower speed range. Subject to the use of motor and fan meeting the demands the service life of the overall system is increased considerably. Another special feature is the self-cleaning mode which is started at the touch of a button. Upon activation the direction of rotation of the fan is amended during 60 seconds generating an air pressure cleaning the cooling system from dust and dirt. It is remarkable that cleaning can be started during the operation, too. For that purpose the intelligent shifting unit interrupts the cooling process, shifts into the cleaning mode, switches back automatically afterwards to continue reliably with the cooling operation.
The coolers are available in the well-known KTR sizes 300, 400, 500 and 600 for the time being, but also in the sizes 700 and 800 on request of the customer. The electric motors used are specified according to protection class IP65. The maximum cooling power is 25 kW with a temperature difference of 40 °C. The application range of the new generation includes stationary hydraulics as well as the high demands of marine hydraulics. "The coolers are perfectly suitable for those applications retrofitting existing machines with the new cooling technology", explains Christoph Bettmer while adding: "The new Eco systems are our pragmatic reply to one out of many challenges provoked by the technological developments of energy efficiency in hydraulics".