Voith Hydro Upgrades Three Power Units from Belgium's Largest Pumped Storage Plant
Voith Hydro has won the order to upgrade the power units from the Coo I section at Belgium's largest pumped storage power plant, Coo-Trois-Ponts. The project will take a period of four years and will bring an increase in plant capacity of 79 MW and performance.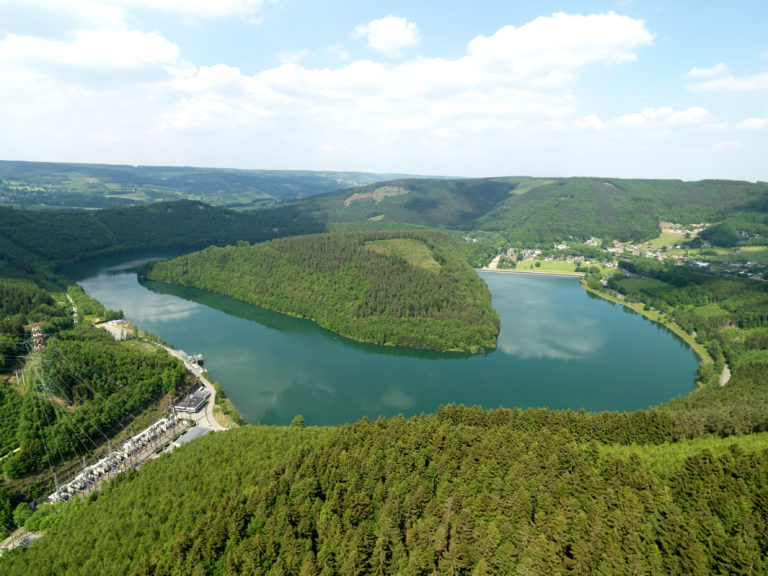 Aerial view of Coo-Trois-Ponts hydropower complex owned by ENGIE Electrabel. (Image source: Voith Hydro Holding GmbH & Co. KG)
An international team of Voith Hydro experts in Germany and the USA will be responsible for the model testing. The subsequent work on turbines and generators to increase performance will be conducted partly on site in the power plant and partly at Voith's facilities in Heidenheim.
Among other things, new runners and distributors will be manufactured for the turbines. For the generators, the priority will be to improve cooling and insulation. For Voith Hydro, the project is an important follow-up order from its customer ENGIE Electrabel. Previously, Voith had completed an extensive automation contract that already included the supply of new control and excitation technology as well as speed governors for the power plant's six machines.
"We are delighted that the customer has also entrusted us with the forthcoming modernization of the power units and that we are thus able to make a further contribution towards safe, reliable and cost efficient power plant operation," says Maxime Ghiduci, Account Manager at Voith Hydro.
Pumped storage an essential part of Belgium's energy mix
Pumped storage is currently the only option for storing electricity on a large scale. In Belgium, the Coo power plant is therefore absolutely essential to maintain balance in the grid. The turbines can currently be ramped up at any time to balance out a sudden drop in generation or absorb excess power. If demand is too low, Coo therefore stores the electricity that has been produced at another location, to then make it available again at peak consumption times.
In this way, Coo has been playing a key role in Belgium's energy mix for nearly 50 years. The maximum output of the power plant is 1,080 MW, making it one of the most efficient plants of its kind in Europe.
Forward-looking expansion planned
With the upgrade of the three power units, ENGIE Electrabel is also investing in a reliable future supply and grid stability. But to also continue to satisfy the growing requirements of the electricity grid, the company will increase the stored energy of the plant by 450 MWh.