Emotron Stronger With New Ownership
26.05.2011
Crompton Greaves Limited, based in Mumbai, India, has entered into an agreement with Polaris Private Equity to acquire the Swedish drives company Emotron AB.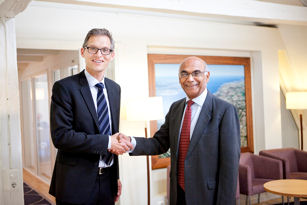 Philip Schwarz, CEO of Emotron, and S M Trehan, CEO of Crompton Greaves (Image: Emotron)
As part of one of the world's leading engineering corporations, Emotron will extend its offer for complete drive solutions, strengthen its R&D resources and have access to new geographic markets.
Leading engineering corporation with globalization strategy
Crompton Greaves (CG) is a leading engineering corporation based in Mumbai, India, listed on The Stock Exchange, Mumbai and the National Stock Exchange. With a history dating back to 1937 it is now part of the USD 4 billion Avantha Group, an Indian industrial conglomerate with business interests in areas such as pulp and paper, food processing, chemicals, infrastructure and energy. CG's offer comprises products and services for the generation, transmission, distribution and utilisation of electrical energy.
Their solutions are divided into three business areas: Power systems (transformers, switchgear, circuit breakers etc.), Industrial systems (motors, generators etc.), and Consumer products (lighting, ventilation, electrical appliances). Targeted industry sectors are power, steel, oil and gas, cement, mining, sugar, chemicals and fertilizers, irrigation and water supply.
Since 2005, CG has an ambitious globalization strategy with the aim to provide complete solutions and take a position as an international player. Today CG employs more than 8,000 employees worldwide and has manufacturing bases in Belgium, Canada, Hungary, Indonesia, Ireland, France, UK and US, in addition to more than twenty manufacturing locations in India. CG's Global R&D centre is located in India and has been recognised for its innovation.
Emotron completes the portfolio in drives technology
The acquisition of Emotron will bring an experienced and profitable drives company into the group, completing the existing portfolio, opening up for the development of complete drive systems and giving access to the European market.
"This is good news for Emotron and our customers," says Philip Schwarz, president and CEO at Emotron. "This will be a long-term ownership with a strategy to invest in our company and our technology. Stronger resources in research and development will increase speed in product development. We will be able to offer optimized drive systems and also expand into new markets such as the high-growth Indian market. Customers will also gain from a wider global presence for service and support."
Closing of the transaction is expected to take place in June 2011, as is contingent on the approval of the German merger control authority.