Emotron Launches New Softstarter. Emotron MSF 2.0 Offers Much More than Soft Starts
26.06.2007
Emotron now launches a new softstarter, MSF 2.0, which minimizes start currents and mechanical stress when starting equipment driven by electrical motors. The new Emotron MSF 2.0 offers additional advantages, such as efficient torque control, advanced braking techniques and built-in monitor.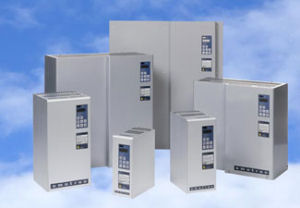 The new Emotron MSF 2.0 softstarter ensures optimized start- and stop sequences, offers advanced braking functionality and protects the process from damage and downtime. (Photo: Emotron)
Emotron MSF 2.0 uses torque control to optimize start and stop sequences. This reduces start currents by up to 30 per cent more than with conventional softstarters. Smaller fuses and less expensive cables can be used, which reduces installation and energy costs. Reduced mechanical stress minimizes maintenance costs.
Protects equipment and optimizes operation
The Emotron softstarter is developed for pumps, fans, compressors, blowers, crushers, mills, mixers and saws. When starting, for example, a heavily loaded crusher, torque boost can be used to handle peak loads. The rotation direction of a fan can be controlled via the programmable inputs of the softstarter. A fan that is rotating in the wrong direction is safely started using spin start. An analogue sensor can be connected to the softstarter to control the start and stop levels of a pump.
Linear stops eliminate the risk of water hammer and other damage, without the need for motor-controlled valves. For mills and saws, the built-in braking functionality of the softstareter ensures quick and safe stops without mechanical brakes, also of high inertia loads. A built-in shaft power monitor immediately detects situations that could reduce efficiency or cause damage. This allows for preventive action, for example if a crusher is jammed or a pump is in the risk of running dry. An efficient operation is ensured, without energy losses, unplanned downtime or unnecessary equipment wear.
Cost-efficient installation
Built-in functionality eliminates the need for additional equipment such as DC-brakes, motor protection relays, mains failure relays, load monitors, meters, displays or switches. Communication is available via analogue and digital outputs, serial communication and fieldbuses. Process values and system parameters that can be displayed include current, voltage, shaft power, shaft torque, energy consumption, operating time and motor thermal capacity.
About the company
Emotron has a solidly established position as a new thinking and pioneering company; protecting, monitoring and controlling processes driven by electrical motors. The company has a broad product portfolio of Variable Speed Drives, Softstarters and Shaft Power Monitors. Furthermore Emotron has a vast number of custom design solutions.Detailed information about the company is available at www.emotron.se