Efficient Re-use of Rainwater With Aquatwin Top
Combined with rainwater collection systems, the new Aquatwin Top by Dab is a pressurisation unit which offers significant savings in terms of water and therefore energy consumption.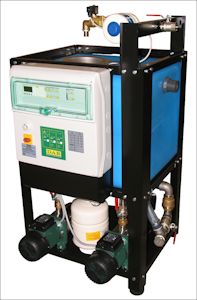 Aquatwin: efficient re-use of rainwater with the new Dab pressurisation system (Image: DAB Pumps)
The rainwater stored in external tanks supplies all services that do not require drinking water (washing machine, WC...). In domestic applications it is calculated that the daily water requirement is 150 litres per person, in particular due to use of the WC, for cleaning and use of the washing machine, for watering the garden and washing the car. Roughly 50% of this consumption can be provided by rainwater, and the use of this water provides an average cost saving of 50%.
Aquatwin Top complies with the European standard EN 1717 for protection against pollution of potable water installations and general requirements of devices to prevent pollution by backflow. This standard provides for an air gap system to prevent any polluting substances entering the water supply, avoiding direct contact between the water provided by the public water supply and the rainwater, observing safety distances between the supply point and the maximum level in the tank.
Large buildings like shopping centres or schools, for example, can recycle enormous quantities of water for non-drinking uses. Aquatwin Top is suitable for medium-size applications, for example schools or hospitals, blocks of flats, hotels and gymnasiums. The unit offers a high level of operating comfort: silent operation, compactness and stability. The Aquatwin structure is made of solid sheet metal with black cataphoretic painting, which ensures high protection against corrosion and aggressive agents, combined with an attractive design. The structure encloses, in a very compact configuration, the pump unit in the lower part, the control panel at the side and, in the upper part, a 150 litre water storage tank which guarantees continuity of the supply even in the absence of rainwater. By means of the adjustable feet on the base, the system can be stabilised on uneven surfaces.