Efficient and Quiet: The New JADE Diaphragm Pump for Medical Applications
Rietschle Thomas Puchheim (Germany) is now launching the new JADE diaphragm pump series which is ideally suited for medical, air sampling and many other applications. The pump is very efficient with a low power consumption, runs very quietly and has very little vibration.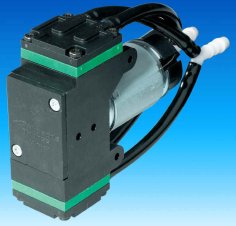 The new JADE diaphragm pump by Rietschle Thomas (photo: Rietschle Thomas).
Due to the special diaphragm geometry a high free flow rate is achieved despite its small size.
The twin-headed pump sports a parallel tube configuration to reach a flow rate as high as 8,2 l/min. Depending on the motorization, dimensions of 86,60 resp. 111,40 x 30 x 75,20 mm and a weight of 220 g resp. 310 g enhance a very handy and small size. At less than 45 dB(A) the Jade series operates at an extremely low sound level. Furthermore, the pump set-up is conducive to very little vibration. Jade is available either in a vacuum (final vacuum 78 %) or a pressure (final pressure 1,0 bar) version.
JADE will be equipped with motors ranging from low cost to high end. Low cost and standard versions are already available; a brushless DC version is under way. Hereby, the rated voltage is either 12 V or 24 V DC. Different eccentrics and different wetted materials for the diaphragm and valves round up the program.
Typical applications for the twin diaphragm pump are medical and automotive applications, air sampling, fuel cells and pollution monitoring.