Econo-Pack for ALLWEILER Customers
Allweiler AG has begun offering its customers original spare parts kits for all standard pumps. They contain all of the parts that must be replaced on a regular basis during standard maintenance and which have similar usage cycles. The packages are designed to save the customer money by providing immediate access to all of the parts needed to completely finish repairs and maintenance.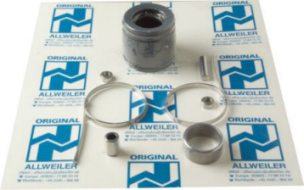 A spare parts kit for progressing cavity pumps is shown here. It includes joint collars, joint pins and bushes, joint sleeves, and clamps.
The company is offering complete spare parts kits for all centrifugal, screw, and progressing cavity pumps in the standard product line. These contain original seal, repair, and joint kits with the manufacturer's warranty. According to Ulrich Gerschermann, Director of Spare Parts for progressing cavity pumps: "Working from our extensive experience with these products, we have compiled the spare parts kits so they contain all of the parts needed for standard maintenance. As a result, the pumps must be shut down and disassembled for maintenance less often." Using original spare parts preserves insurance protection and extends the life cycle of the pump system. The kits are small, easy to keep in stock, and even save the customer up to 10% compared to the cost to purchase all components individually.
Chairman Dr. Michael Matros views the kits as yet another way for Allweiler to help its customers lower their TCO (total cost of owning a pump) and work more efficiently. Allweiler guarantees the shipment of kits from stock within 48 hours. Each spare parts kit contains instructions that precisely describe the installation process. Marion Heller, Director of the Aftermarket Business Unit, Radolfzell: "Using spare parts kits gives the user the peace of mind that he is using only the right parts in original manufacturer s quality. This lessens unexpected expenses, damages to other pump parts, or lower performance."
About Allweiler
Allweiler AG is the oldest German pump manufacturer and the European market and technology leader for centrifugal, propeller, screw, progressing-cavity, cogwheel, rotary lobe, macerators and peristaltic pumps. Headquartered in Radolfzell and with locations in Bottrop and Gottmadingen, Allweiler owns a foundry, produces its own stators and manufactures ready-to-use fuel and lube-oil skids and rinsing-water facilities for commercial marine, oil & gas, chemical processing, specialty chemical and waste and wastewater applications.