Ebara Held Seminars on Water Supply Pumps in Cambodia
Ebara held seminars on water supply pumps for the main water suppliers of Cambodia, the Cambodia Water Supply Association (CWA), on August 20. The availability of energy in Cambodia is unstable and there are projections of high electricity costs within Southeast Asia.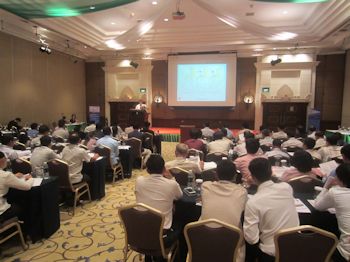 Scene from a seminar (Image: Ebara Corp.)
In buildings and other commercial facilities the reduction in electricity consumption will be the key point in introducing Ebara's water supply pumps. The pumps introduced at the seminars conserve energy while in operation.
There were approximately 78 participants, consisting of public and private water supply, and sewage related operators. There was a strong interest in the Ebara pump's technological capabilities in speed control and estimated constant end-pressure control, and its ability to save energy. This seminar was held jointly by three companies, City of Kitakyushu, Yasukawa Electric Corporation, and Ebara.
Ebara will continue to contribute to the future development of Southeast Asian countries through the provision of its products and services.