Ebara Delivers Drainage Pump Trucks to the Philippines
Recently, in Southeast Asia, the demand for flood control has increased and early recovery from flood damage has become a major issue. Drainage pump trucks equipped with Ebara pumps have also been delivered to Laos and Vietnam in Southeast Asia.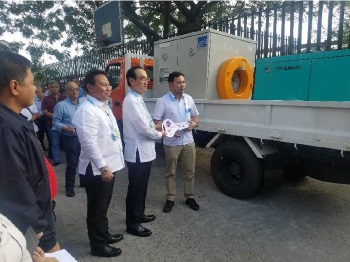 Delivery Ceremony (Image: Ebara)
The drainage pump trucks, each equipped with ultra-lightweight pumps, a hose, an operation panel, and a generator, are capable of moving drainage facilities. A major feature of these trucks is the ability to rush to flooded areas and start draining immediately, with only a small number of people, each truck demonstrates its power in the early recovery of flood-damaged areas and flood damage prevention when a river rises. When delivering the drainage pump trucks, we also dispatched supervisors to provide training on their use. At this time, Ebara has provided ODA drainage pump trucks.
Ebara will continue to contribute to the development of Southeast Asian countries through the provision of products and services, including pumps, that meet local needs.