Easy-to-use Compact Turbo Pumping Station Provides Fast Pump Down
19.07.2011
Edwards has launched a new compact entry level turbo pumping station which provides users in laboratories and research centres with fast pump down to an ultimate pressure of less than 5 x 10-8 mbar.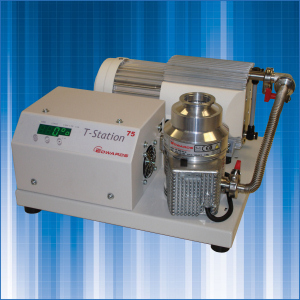 T-station 75 Turbo Cart (Image: Edwards)
The new T-station 75 turbo cart provides reliable high performance and is an ideal 'plug and play' solution for those wanting to achieve high vacuum quickly and simply.
The T-station 75 turbo cart is the smallest in Edwards' range of pumping stations at just 395 x 350 mm and achieves the fastest pump down of large chambers (greater than 10 litres in volume) for its size. The T-station can pump a chamber to the required vacuum up to twice as fast as competitive products thanks to higher capacity backing pumps and is simple to use with a single button system to start and stop. The T-station arrives pre-assembled and is easy to install – users just plug it in and begin work.
Each T-station combines Edwards' proven pumping technology with a new controller to deliver a cost effective high vacuum pumping solution. It incorporates Edwards EXT75DX turbo pump with a dry XDD1 diaphragm pump or E2M1.5 oil-sealed backing pump and controller to give a nitrogen pumping speed of up to 61 l/s. The EXT75DX compound turbo pumps feature reliable oil-lubricated ceramic mechanical lower bearings and a dry permanent magnetic upper bearing to provide hydrocarbon- and vibration-free ultra high vacuum.
The cart features a new custom user interface controller which displays turbo speed as a percentage, making it easier for the user to read with a quick glance. It can additionally control one active gauge including APG100 (Pirani), AIM (Penning), ASG (Strain) or WRG (combined Pirani/Penning) and also offers the option of a delayed turbo start, making it suitable for pumping larger chambers.
Users can easily add a vent valve with a choice of options for automated venting with no user intervention, and the EXT75DX turbo pump is available with NW40, ISO63 or CF63 inlet flanges for greater user flexibility.
"Our new T-station 75 compact turbo cart complements our existing range of
easy-to-use pumping stations," says Russell Coleman, European R&D market sector manager at Edwards. "We have introduced the new carts in response to customer demand for a competitively-priced and flexible turbo pumping station that provides rapid pump down. It follows the recent launch of Edwards' nEXT turbo pumping carts and customers can now choose between stations that provide a range of pumping speeds for nitrogen from 42 l/s to 400 l/s with a choice of platform to meet their specific needs."