Dosapro Milton Roy Appoints New Distributor in Switzerland
TDF Schweiz is the new distributor in Switzerland of Dosapro Milton Roy.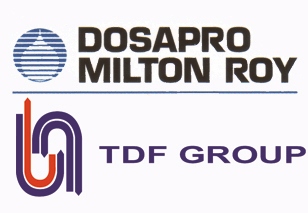 TDF Schweiz
Dosapro has been for over 50 years one of the leading manufacturers of the world of diaphragm dosing pumps , complete dosing systems and its accesories. With Dosapro pumps chemical, viscous, abrasive and even radioactive liquids can be dosed with flows between 24ml to 15m3 and up to 500 bar of pressure.
TDF Schweiz was founded in 2010 as a subsidiary of the TDF Group. TDF Schweiz represents prestigious pump manufacturers such as Wilden , Mouvex , Jabsco or Flojet in Switzerland. The company has 4 employees and has its offices, warehouse and service center in Basel.
The TDF Group has over 120 employees, has direct presence in 9 countries and is dedicated since 1976 to the distribution of industrial pumps.