Deep Lake Water Cooling System
Enwave Energy Corporation and the City of Toronto have created an innovative cooling system that brings an alternative to conventional air conditioning to cool Toronto's downtown core - one that is clean, price competitive and energy efficient.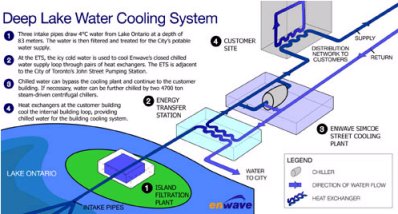 A permanent layer of icy-cold (4°C) water 83 meters below the surface of Lake Ontario provides naturally cold water. This water is the renewable source of energy that Enwave's leading-edge technology uses to cool office towers, sports and entertainment complexes and proposed waterfront developments.
Armstrong's Vertical In-Line pumps, specifically designed for district cooling, provide the circulation and distribution pumping for Enwave's Deep Lake Water Cooling System. Currently, this system has the capacity to air condition 100 office buildings, or 32 million square feet of building space capacity, equivalent to 8,000 homes.
More about Enwave and Deep Lake Water Cooling System
Armstrong is a leading global supplier of quality HVAC and Fluid Flow equipment for residential, commercial and industrial applications. Established in 1934, the company maintains eight manufacturing facilities on three continents and serves customers in over 50 countries.