Amarinth Delivers Vertical In-Line Pumps to EDF for Sizewell B Nuclear Power Station, United Kingdom
Amarinth has delivered two vertical in-line pumps to EDF to replace obsolete pumps at the Sizewell B nuclear power station, Suffolk, United Kingdom.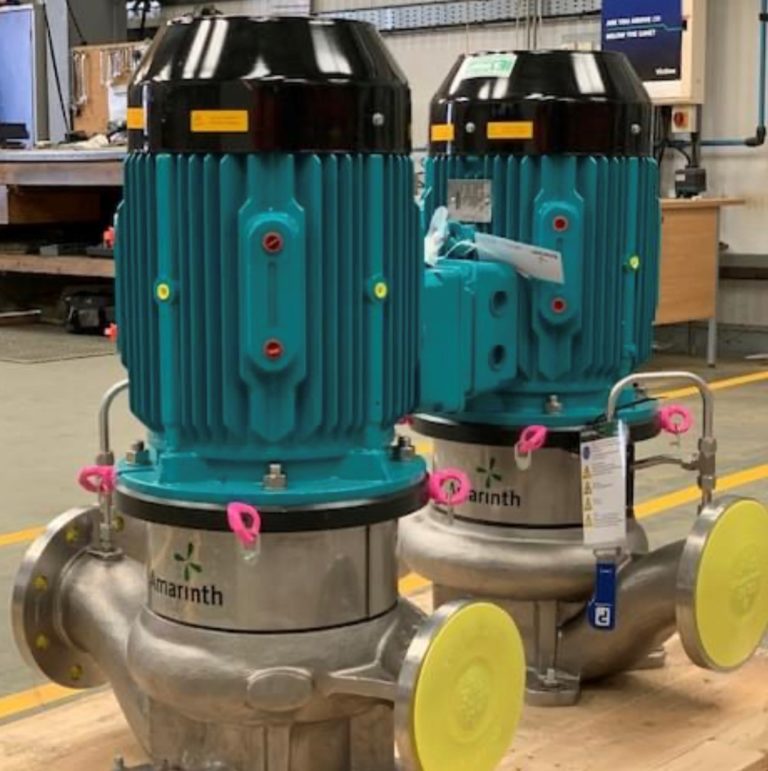 Amarinth vertical in-line pumps ready for shipment to EDF Sizewell B nuclear power station. (Image source: Amarinth Ltd.)
The Sizewell B nuclear power station on the Suffolk coast and operated by EDF is the only Pressurised Water Reactor in the United Kingdom. Last year Sizewell B generated low carbon electricity for 2.3 million homes. Following previous orders of pumps from EDF, Amarinth was once again selected to provide two vertical in-line pumps by EDF to replace end-of-life obsolete pumps at the power station.
Replacement of obsolete equipment in power stations to maintain operations has become a major issue for power generation companies and so Roll-Royce has created the Proactive Obsolescence Management System (POMS) to quickly identify equipment suppliers that can provide replacement solutions for the obsolete equipment, particularly where the OEM has gone out of business. Amarinth is both registered in POMS and had previously undertaken a site survey of the existing pumps at Sizewell, giving EDF confidence that Amarinth fully understand the challenges of providing a replacement pump.
The power station requires filtered sea water during operation and the new Amarinth vertical in-line super duplex pumps delivered to EDF are to replace existing but now obsolete filtration screen spray pumps for the drum screen wash process. The pumps are safe area rated, underwent a full suite of non-destructive evaluation (NDE), and carry 3.1 material certification for traceability. The pumps were also delivered to a tight 30-week deadline to coincide with a planned maintenance schedule thereby minimising disruption at the power station.
Oliver Brigginshaw, Managing Director of Amarinth, commented: "We are delighted that EDF has once again selected Amarinth for these new pumps which replace obsolete pumps where the OEM is no longer in business. Our obsolescence programme for OEM pumps is designed for any organisation facing issues with existing centrifugal pumps where the OEM may have gone out of business. We can provide sacrificial and critical component spares; a strip, service and refurbishment capability regardless of original equipment manufacturer; through to a complete pump replacement, which in many cases is fully interchangeable, hydraulically and dimensionally, with the obsolete centrifugal pump, minimising the need to modify existing plant or pipework."