Cruise Ship Europa 2 Equipped With KSB Products
The KSB Group located in Frankenthal, Germany, has supplied 70 pumps and around 700 butterfly valves to the new cruise ship Europa 2 run by Hamburg-based cruise ship organiser, Hapag-Lloyd Cruises.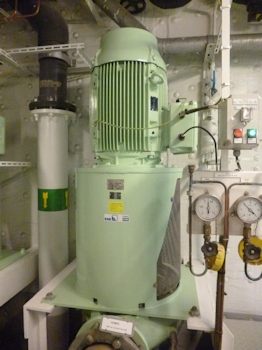 Cooling water pump type KSB ILNA-200/330R with a 30 kW drive rating (KSB / © Hapag-Lloyd Cruises)
The pumps' spectrum of applications is varied and ranges from cooling the drives in the submerged pods to transporting seawater in ballast systems, supplying fire-fighting systems and handling fresh water, service water, waste water and sewage.
All pumps are either manufactured from seawater-resistant bronze alloys or stainless steel. The drive ratings range from 0.37 kW to 75 kW. The pumps are driven by 2-pole or 4-pole three-phase motors with a mains voltage of 690 V and a mains frequency of 60 Hz. The butterfly valves are operated either by an electro-hydraulic actuator or manually via a gearbox.
The christening of the 225-metre ship Europa 2 took place in Hamburg on 10 May this year. The ship features state-of-the art technology and is one of the most environmentally friendly cruise ships in operation today.
KSB Group equips passenger and cargo ships, tankers and special-purpose ships with pumps and valves all over the world.