Crouzet Introduces New Geared Brushless DC Motor Line
Crouzet North America has introduced a new line of high performance, geared BLDC motors available with a complete tool kit of selectable gear boxes, controllers, brakes and smart drives. The innovative concept allows different configurations to be quickly assembled for fast prototyping and provides a complete automated solution tailored to fit individual customer needs.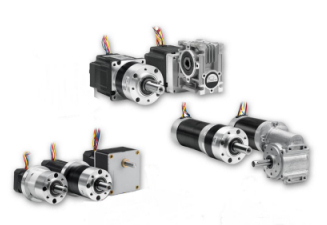 Crouzet North America
The new BLDC motors feature a wide selection range for power, speed, torque and size. Motors include continuous power up to 400 watts, speeds between 1,500 and 6,100 RPMs, and motor constants up to 15 ounce per square root watt (103 mNm per square root Watt). Maximum torque constants feature up to 198 ounce- inches/amp (1400 mNm/amp). The six new models include two round and four square designs with lengths ranging from 41mm to 114 mm. Motors can be ordered with a factory-mounted optical or magnetic encoder and can also be fitted with electro-mechanical fail safe power off brakes.
Compatible gearboxes feature Spur, Planetary and Worm styles with torques from 0.4 Nm to 120 Nm. The BDE30 and BDE40 external drives are offered in 6A or 14A max respectively. Internal drives are offered on BLDC motors that feature power ranges from 40 to 100 Watts. A wide range of accessories are also available.
The new motor control solution is suitable for a wide range of applications in the medical and industrial markets. Specific uses include automation for endoscopy, x-ray and dental equipment, robotic pool equipment, peristaltic pumps, access control, printing and bill boards.
"Crouzet's new motor line offers a significantly expanded performance range and selection for greater application flexibility," explains Jim McNamara, Crouzet Application Engineer. "Our new 'tool kit' approach of interchangeable motors, gear boxes, controllers, brakes and smart drives, allows us to provide fast automated solutions at an excellent value."