Critical Process Alarm Notification
If a customer has a critical process and needs to know immediately when something is amiss, Walchem's WebAlert™ will provide notification via email, cell phone text message, or via local alarm enunciator. Emails may be sent via modem, Ethernet or cell modem connections.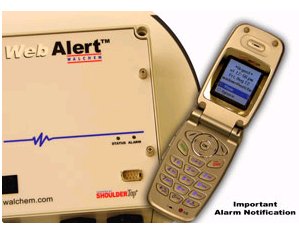 WebAlert acts like an attentive employee, notifying you of out-of-range conditions, instantly, anywhere, avoiding costly downtime or fines.
The data logs, which can be stored and sent via email, monitor all inputs and are invaluable for troubleshooting and reporting.
Security and practicality are also part of WebAlert's technology. Powered by Walchem's patented ShoulderTap® Technology, WebAlert is only online when you need it. WebAlert pulls your older equipment into the Internet age with online monitoring, data logging, auto-reporting and auto-alarming. User defined alarms can be received by email or page. Data logs can be delivered by email as a spreadsheet attachment. You decide where and when you need the information and WebAlert makes it happen.
Since WebAlert supports simultaneous multi-user access and Ethernet, all of its remote monitoring features are also available on local area networks (LAN). For larger installations that require additional inputs - WebAlert can be networked together with Ethernet.