Competence Center Nikkiso Cryo Europe Opened in Italy
With the inauguration of the new Competence Center "Nikkiso Cryo Europe" at Lewa S.R.L. in Milan, Italy, Lewa GmbH and its parent company Nikkiso Co. Ltd. improve the customer proximity and shorten the response cycle for cryogenic submerged motor pumps.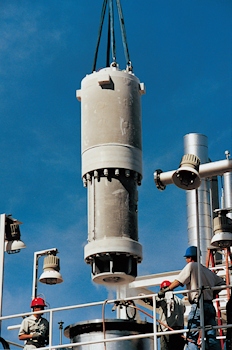 Nikkiso cryogenic pumps are now also distributed by Nikkiso Cryo Europe in Italy (Image: Lewa)
At the same time they take the next step on the way to the creation of a stronger internal network.
The competence center complements the production and test sites in Higashimurayama (Japan) and Las Vegas (USA) by bringing together consultancy and sales activities for Nikkiso Cryogenic pumps. The UK office that had previously been responsible for these tasks in Europe was closed down. From now on, Nikkiso Cryo Europe in Italy will take over the responsibilities and deliver various pump parts. Thus, European customers will have local contact persons and they will not be required to handle their requests via Japan or the U.S.
In the future, the manufacturer of pumps and systems will focus on expanding the services. The targets are to shorten bidding times and improve the provision of technical consultancy services. Moreover, the entire order processing including commissioning and maintenance will be coordinated by experts at Lewa Italy.
Lewa and its parent company Nikkiso jointly shape their future. The most recent developments prove this effort. Only recently the first Lewa ecoflow was produced in Japan and delivered to a University in Fukuoka (Japan).