Chinese Pump Revenues to Exceed $8 Billion in 2014
Industrial pump purchases in China will rise from $7.4 billion this year to over $8 billion in 2014 for an increase of eight percent. This is the latest forecast in Pumps World Markets published by the McIlvaine Company.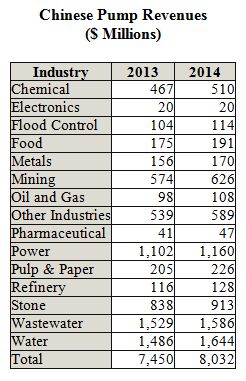 Chinese Pump Revenues in $ Millions(Image: McIlvaine)
Municipal water and wastewater will be the leading application segments. China is rapidly building its water infrastructure. It is also adding secondary treatment capacity to treat wastewater.
Power is the next largest category and will account for pump revenues in excess of $1.1 billion. China is building more coal-fired power plants each year than any other country. It is also retrofitting scrubbers to capture SO2. These scrubbers require large pumps.
The stone and cement industry is also a big segment. China produces more than 50 percent of the worlds cement. The mining industry is also a big purchaser. China is the world's leading coal producer. Because of lack of rail infrastructure more of this coal is conveyed in slurries to the power plants than in other countries.
China is moving forward in the oil and gas sector. It is a leader in direct liquefaction of coal. This process requires a substantial investment in pumps.