CFturbo 10.0 – New Version of Turbomachinery Design Software Has Been Released
CFturbo Software & Engineering GmbH has released a new software version of its powerful conceptual Turbomachinery design system CFturbo. The new version CFturbo 10.0 can be used to design axial, radial and mixed-flow pumps, blowers, compressors and turbines, as well as for diffusers, stators, return channels and volutes.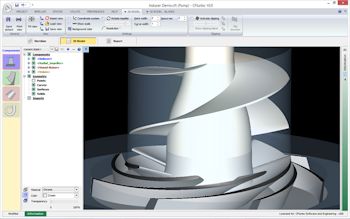 Inducer with Centrifugal Pump Impeller (Image: CFturbo Software & Engineering GmbH)
Especially all new developed modules to create axial fans, axial turbines, axial pumps and inducers will allow a much wider range of applications for CFturbo then before.
Direct interfaces to all major standard CAD- and CFD-systems have been extended. Due to its parametric geometry structure the set-up of automated CAE-workflows and optimization of Turbomachinery components will be easily possible in collaboration with various related commercial and open-source software packages.