Blackmer Sliding Vane Pumps Ideal For Eliminating Contamination In AdBlue Handling Applications
Blackmer has constructed its STX3-DEF Sliding Vane Pumps with 316 stainless steel, which makes them ideal for the handling of AdBlue (AUS 32).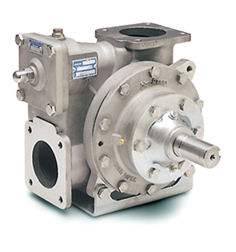 Blackmer
AdBlue is used in conjunction with a Selective Catalytic Reduction (SCR) system to reduce nitrogen oxide (NOx) emissions from diesel-powered vehicles, per European Euro IV emission-control regulations that went into effect in 2006. AdBlue is a solution made up of purified water and 32.5 percent automotive-grade urea. When introduced to a diesel vehicle's exhaust stream during the SCR process, it converts harmful NOx emissions into harmless nitrogen, water and carbon dioxide (CO2).
Stainless steel is one of the metals that is compatible with AdBlue's corrosive nature, meaning that the fluid won't become contaminated by trace quantities of metals during its handling and transfer. Vehicles that use contaminated AdBlue are in danger of suffering severe engine damage, as well as damage to their SCR system.
The STX3-DEF pump is a 3-inch pump that is ideal for AdBlue transport and railcar offloading applications. In addition to its stainless-steel construction, the pumps feature external ball bearings, non-metallic Duravanes, FKM elastomers and Blackmer chemical mechanical seals. The STX offers high-capacity flow rates up to 946 lpm (250 gpm), differential pressures up to 125 psi (8.6 Bar) and pump speeds up to 800 rpm, delivering fast fluid offloading. In fact, a 22,700-liter tanker can be unloaded in about 24 minutes using the STX3-DEF.
The pump's non-metallic vanes are also AdBlue-compatible and self-adjust for wear in order to maintain flow rate, while minimizing shear and agitation. An adjustable relief valve protects the pump from excessive pressures. The pump has excellent self-priming and dry-run capabilities and maintenance is reduced because internal wear is almost completely limited to the easily replaced sliding vanes. The STX3-DEF's construction and operation is also in compliance with the ISO 22241 material and cleanliness standards that are required for AdBlue handling.