Blackmer Sliding Vane Pumps Feature the Operational Advantages Required for Shale Oil Transfer Applications
13.10.2014
Blackmer is pleased to announce that its XL, TX and SGL Series Sliding Vane Pumps provide numerous design and energy efficiency advantages that are ideal for operators in the shale oil industry.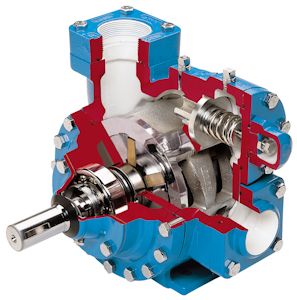 Blackmer
Oil produced from tight shale formations is much lighter than traditional crude oil because of its lower viscosity and levels of impurities. This light composition requires that shale oil be handled and transferred by pumps that have been specifically designed to efficiently handle liquids of lower viscosities and with lesser particulate levels. Additionally, because shale oil production is a continuous process industry, operators cannot afford downtime, which quickly leads to lost productivity and profitability. Therefore, the pumping technology utilized for this operation must offer trouble-free operation.
Realizing the importance for pumping equipment that feature the design and performance characteristics required for moving thin and medium viscosity petroleum-based liquids such as crude oil from shale formations, Blackmer offers its XL Series, TX Series and SGL Series Sliding Vane Pumps for crude oil handling operations. Utilizing a unique sliding vane design, Blackmer pumps offer the best-combined characteristics of sustained high-level performance, energy efficiency, trouble-free operation and low maintenance cost.
Other features that make Blackmer pumps ideal for use in shale oil applications include excellent self-priming and dry-run capabilities, leak-free mechanical-seal and ball-bearing construction, symmetrical bearing support for even loading and long wear life and an adjustable relief valve that protects against excessive pressures. Blackmer pumps are also equipped with replaceable liners and end discs, and can be rebuilt for like-new performance.