Blackmer SGL Series Sliding Vane Pumps Upgraded
Blackmer is pleased to announce that its SGL Series Sliding Vane pumps are now available with optional Neoprene mechanical seals and O-rings.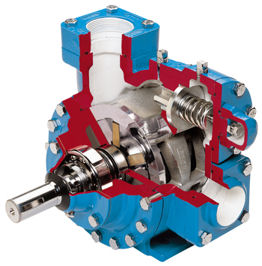 Blackmer
Neoprene mechanical seals and O-rings offer an expanded application range along with improved resilience characteristics and high tensile strength properties that provide a greater resistance to wear caused from a variety of applications involving liquefied gases and other chemicals.
Compatible with a variety of refrigerants and other specialty gases in a broad range of applications, Blackmer SGL Series pumps are available in five sizes with capacities of 4 to 300 gpm (15 to 1,135 lpm). Featuring a ductile iron construction with an internal relief valve with optional spring ranges, SGL Series pumps provide excellent self-priming and dry run capabilities. Thanks to its sliding vane design, these pumps deliver a reliable, highly efficient performance over a wide range of temperatures and differential pressures. In addition, SGL Series pumps are also designed with a cavitation suppression liner for reducing the noise, vibration and wear normally caused by entrained vapors.
Blackmer SGL Series pumps feature replaceable casing liners and end discs that allow for easy rebuilding of the pumping chamber to like-new condition and a symmetrical bearing support that assures even loading and wear for long pump life. SGL Series pumps have also been designed for easy maintenance. For example, the pumps' vanes can be easily replaced without removing the pump from the piping system. Other options available on SGL Series pumps include mechanical seals constructed from HBNR, FKM and PTFE material.