Biral Type SW Waste Water Pumps
Robust, jacket-cooled pumps for stationary or portable application. SW-pumps are ideally suited for irrigation and drainage functions with clean or dirty water, even if contaminated with abrasive sand or sludge.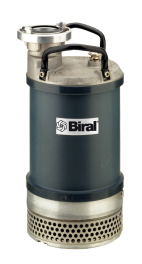 Type SW Waste Water Pump
Flow of the medium delivered around the motor ensures sufficient cooling and protects the motor from overheating, even with extremely low water level (slurp operation).
SW-pumps are available as:
- Automatic alternating current pumps with level controller fitted
- High performance three-phase pumps in combination with the Biral control unit
- Alternating current pumps for salvage work, which can drain down to 5 mm water level