Biral Expands Standard Product Range of Whirl Impeller Pumps
If waste water has to be removed, whirl impeller pumps have several convincing advantages: large sphere size, little risk of blockage, constant delivery as well as low maintenance costs.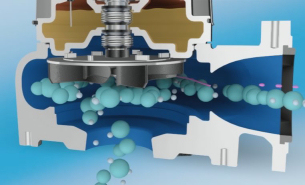 Biral, Muensingen / Switzerland.
For these reasons Biral has extended its standard range of whirl impeller pumps from type FWC (available from Muensingen stock).
The possible applications of these pumps are multifunctional: They can be used for waste water removal for example in apartment blocks and department stores, but also for camping, in restaurants as well as hospitals.
Unique Feature of Whirl Impeller Pumps
A unique feature is the impeller which is set back in the casing. That means, this design feature provides a wider and more open passage, without the delivery medium having to pass a bottleneck. Long-fibred solid matter tending to entwine can be pumped away without blocking in the pump casing.
Practically no wear in the hydraulics, since solid matter, is fed past the impeller. This maintains the delivery without having to make adjustments. The high turbulence, which is also effective below the pump, whirls up the major part of the solid matter and this is pumped away with the delivery medium. This reduces costs for manual sump cleaning.