Big Efficiency Gains from 5-Axis Machining of Pumps
Average reductions of 52 per cent in cycle times and 58 per cent in set-up times are reported by Clydeunion Pumps in Cathcart, Glasgow, using its first 5-axis machining centre.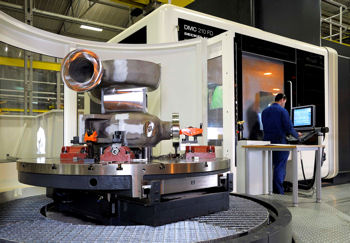 View of the DMG DMC210FD machining TWL pump casings (Image: DMG (UK) Ltd.)
Supplied by DMG (UK) at the end of 2010, the DMC210FD 5-axis machining cell with turning capability is equipped with a 5-pallet carousel to allow off-line workpiece fixturing.
The initial productivity improvement figures were calculated based on the manufacture of three of the company's typical components; (i) pump-and-turbine casings, (ii) end frame covers, and (iii) non-drive end pump covers. In addition to cycle time reductions, the number of operational setups for each component has been reduced to two, as opposed to the three to five setups previously required.
The universal, gantry-type DMC210FD with 1,800 x 2,100 x 1,250 mm travels is one of three large-capacity machines in the new 'High End Manufacturing Cell' at Clydeunion Pumps, creating a centre of excellence for high value, fine tolerance machining of complex components within the multinational group. The Scottish company is a leading supplier of pumping solutions that are used in oil and gas processing, power generation and other industrial applications.
As part of the cell, the machine produces small to medium size components, typical product examples including CUP turbine water lubricated (TWL) pump casings and end frame covers, as well as a range of suction covers, discharge covers, mechanical seal housings, and bearing housings belonging to other product families.
The TWL is a high temperature, high pressure safety pump used in the nuclear industry, and since its compact design requires no external services, it is especially robust in withstanding catastrophic events in the field. Clydeunion Pumps has recently won a US$15 million order for six of these TWL pumps for the new Fuqing nuclear power plant under construction in Fujian Province, southwest China.
For all of Clydeunion Pumps' product ranges, every component needs to be machined to high accuracy. Particular challenges include machining features on some components tied up to 10 microns in three dimensions, and creating spiral grooves in flange faces at compound angles to improve pump sealability. In addition, batch sizes are often small (typically between one- and six-off by unique part number) due to the engineered-to-order, project-based nature of the business. Right-first-time manufacture is therefore vital.
Of Clydeunion Pumps' selection of the DMC210FD 5-axis machining cell, Manufacturing Engineering Manager, Kevin McGuire, commented, "We shortlisted four prismatic machines with turning capability. DMG s machine proved to be the best option for a number of reasons, primarily due to its robustness and power.
"The 210-degree B-axis spindle head movement and C-axis rotary table combination is stronger than other 5-axis machine designs we investigated, and gives us the flexibility to have the spindle horizontal, vertical or anywhere in between.
The machine was the only one with direct drive turning, which minimises heat build-up. So the electronically balanced table is not subject to thermal movement when we do a lot of turning, helping to maintain accuracy.
The DMU210FD also offered the most powerful spindle – we went for the 44 kW / 1,550 Nm option and use its full power much of the time."
"Another thing we like about the machine is the use of linear scales as standard, which underpins the levels of accuracy we need for our pump manufacture."
Manufacturing Engineer, Euan Crozier, who has experience operating DMG machines at another Scottish firm, Bosch Rexroth in Glenrothes, added, "We especially like the ease with which the DMG machine can be programmed, despite the complexity of our parts.
Siemens NX programming software helps simplify off-line generation of high performance toolpaths for running in the machine s 840D powerline control.
NX is very effective at managing the creation of difficult programs, not only for the DMU210FD but for other makes of machine on the shop floor as well.
Furthermore, DMG was able to supply a software macro for achieving the spiral turned finish on flange seal faces. The control does all the calculations, whatever the angle of the faces, and inserts the blocks automatically into the cutting cycles.
Without this, we would have needed a turning tool mounted in a facing head on the DMU210FD, which would have been slower and more costly."
More recently, in September 2011, Clydeunion Pumps returned to DMG for another 5-axis machining centre to harness its abilities to streamline the supply of aftermarket components, which again are typically required in small batch quantities or one-offs.
The travelling-column machine with 1,800 x 700 x 700 mm working volume replaced four older 3/4-axis machining centres, speeding the company s response to requests for spares anywhere in the world. An integral part of a 20-year-old pump can be required within a turnaround time of just a few days, for example.
Designated DMF180, the latest DMG 5-axis model is also required to hold close tolerances; a 10-micron drawing tolerance on some machined keyways is not unusual. This is made easier by the ability of 5-axis cutting cycles to reduce the number of set-ups.
To produce one shaft component, for instance, four operations on different machining centres have been reduced to one on the DMF180. One-third has been taken off total machining time and a considerable amount of time spent on inter-machine handling and set-ups is also saved.
Features of the machine that appealed to Clydeunion Pumps included the epoxy-polymer concrete bed, which dampens vibrations and reduces thermal growth throughout the day. Sturdy build and linear scales were other considerations, as was the easy shop floor programming using ShopMill conversational software with 3D simulation within DMG s ergoLINE control.