AUSSIE'S new Scud 40 GT
Australian Pump Industries was the first company to build a 4,000 psi engine drive pressure cleaner in Australia.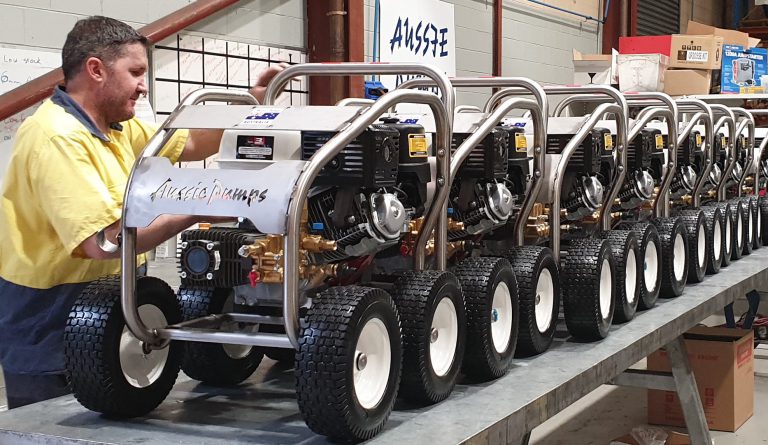 Aussie's new Scud 40 GT 4,000 psi pressure cleaner rolls off the production line. (Image source: Aussie Pumps)
They introduced a new concept in pressure cleaners and changed the way people think about the effective use of pressure.
Aussie Pumps proved 4,000 psi can be more effective than 3,000 psi in most applications and saves water at the same time.  A specially configured "Big Berty" Bertolini pump was made for this project with 13 litres per minute flow.  It's a big pump for direct drive, certainly bigger than the "cheapies" you see around tool shops.
The pump is heavy duty triplex design, not axial, with solid ceramic pistons and a whole range of other typical Bertolini over engineered and designed in features.
The trick was to come up with a machine that would use 4,000 psi and still only required the torque and horsepower of a 13hp Honda engine.  The first machines launched seven years ago as Aussie Scud AB40's, did the trick and were an instant success.   Those machines had galvanised steel roll frames and four 10 inch wheels.
The revamped version, with an upgraded pump, powered by a Honda 13hp recoil start engine, was released earlier this year as the "AB40 GT".  It features 13 inch steel wheels and flat free tyres, and a totally redesigned, sculpted, stainless steel frame that has no "sharps".
The axles are spaced close, making moving the machine around sites a piece of cake.  Best of all, the unit is super compact, fitting into a 900 by 800 by 900 envelope.
A bolt-on "push handle" that also doubles as a hose rack is part of the design.  The company is particularly proud of the fact that the machine is super OH & S compatible.
"We really worked overtime to make this the safest machine and even included a safety kit with safety valve to protect the machine and the operator in the event of pressure spikes", said Aussie Pumps' Operations Manager, Hamish Lorenz  Thermal dump valve protects the unit against excessive by-pass operation.
The machine is already a big success and the company has now sold out of the first three production runs completely.   A stainless steel hose reel will shortly be available that will carry up to 30 metres of hose to give extra versatility to this unique Aussie innovation.