Aussie Sea Skipper joins Korean Navy
A Sydney base pump manufacturer and defence contractor has won a prestigious contract, to supply 3" engine drive salvage pumps for the Republic Of Korea Navy.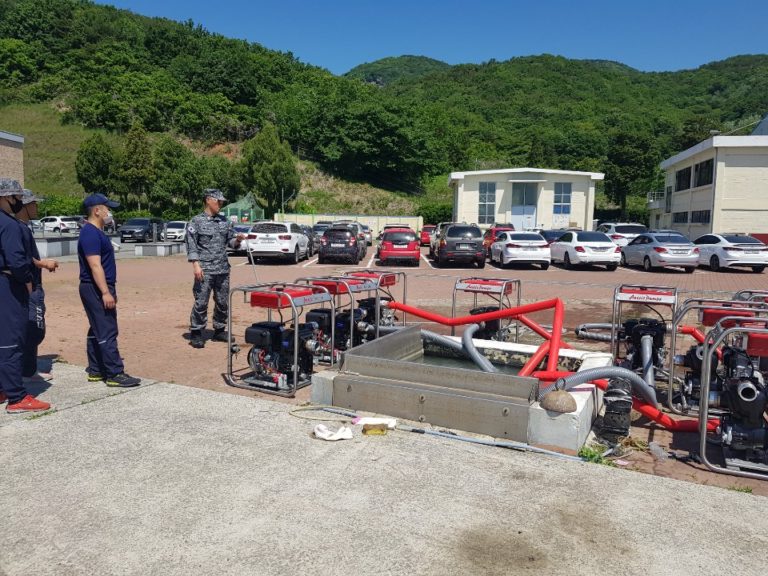 ROKN staff carry out test certificates at Pusan Naval Base. (Image source: Aussie Pumps)
The pumps are unique and have application not only in Korea, but in warships and support vessels throughout the world.
"The original requirement was for a lightweight portable diesel drive salvage pump, capable of handling saltwater," said Chief Engineer, John Hales.  "We'd already developed high pressure firefighting pumps for seawater applications in the form of both the Seamaster and Sea Skipper diesel drive machines', he said.
Those pumps are already in use by the Royal Australian Navy, the Indian, French, Sri Lankan and Bangladesh navies as well.
"The Korean project was a challenge for us because the specification was different to anything that the Royal Australian Navy had asked us for in the past", said Hales. "We found that we could configure as self priming salvage pump that would deliver in excess of 1.000 litres per minute and handle solids in suspension where required. The solid handling issue was a big one, as well as the ability to self prime through a vertical lift of 7 metres or more", said Hales.
The contract awarded late last year, after months of finessing of specification and prototypes, is the first of 100 machines destined for this application.
The pumps are powered by Yanmar air cooled 10hp diesel engines with electric start and/recoil backup. The complete pumps are fitted into a stainless steel frame with an 18 litre, 10 hour fuel tank. Other great features include a huge non-clog style bronze impeller, working in a bronze volute.  The body of the pump is made from marine grade aluminium, coated with epoxy paint for additional resistance to corrosion. Lastly, the company used all stainless steel fasteners and a sacrificial anode to help protect the product from corrosion.
"We are pleased with the way the ROKN worked with us on development specification", said Hales. "It's a great thing to work with professionals who know what they want. Our agent in Korea did a superb job of liaison, explaining carefully, and in detail, exactly the customer need for this particular application", he said.
The pumps, which were Bureau Veritas certified before shipment to Korea, have recently passed testing in the Korean Navy base. The unique specification is already attracting interest from other navies around the world.
"It's a great thing for an Australian company to be innovative and open minded enough to develop products quickly and efficiently.  At the same time, we take care to listen to the customer to really understand exactly what the requirements are. There is no doubt the Australian Navy will find similar applications on barges, patrol boats, workboats and maybe even in some larger vessels as well", said Hales.
Australian Pumps has had a long and successful relationship with defence shipbuilders.  The company admits that it owes a lot to the input from RAN personnel and from working on RAN vessels. Aussie Pumps in an ISO 9001 certified company and also runs a repair station for Navy pumps as diverse as used on DDGs, ANZACs and even Collins Class submarines.