Aussie Pumps: New Long Range Gusher
A new, cost efficient 6" (150 mm) self-priming pump, capable of moving huge quantities of water, has been released by Australian Pump Industries. It is a 'Long Ranger' version of Aussie's Quik Prime model QP602 that runs for extended periods.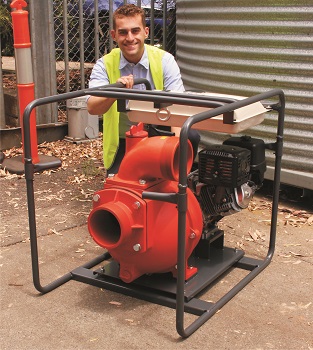 New Long Range Gusher
The big gusher is ideal for high volume transfer or flood irrigation applications. The new high 'Long Range' version of the pump features a 16 litre long range fuel tank that neatly fits within a steel roll frame. This extra fuel capacity allows it to run continuously for up to 5 hours without the need to refuel.
"Not having to refuel the pump frequently is a time saver for farmers with large volumes of water to transfer," said Aussie Pumps' Product Manager, Brad Farrugia. "Not to mention the extra convenience as the pump can be left to run unattended for long periods, freeing up time for other activities," he said.
Efficient water transfer is vital for flood irrigation and the QP602 is capable of transferring up to 174,000 litres per hour. With a maximum vertical discharge of 23 metres, the big 6" pump can move water from a lower dam or river to the flood site or storage dam.
The 6" pump features a huge open style, high grade cast iron impeller, capable of passing small solids up to 20mm in suspension. It has the ability to draft water from depths of up to 7.6 metres, making it ideal for pumping from rivers, dams or tanks.
"Its unique high flow design makes it very efficient and gives it the ability to move water fast with minimal fuel" said Farrugia. "In its standard configuration, it needs only a 13HP Honda petrol engine to achieve its full capacity!" he said.
The big Aussie gusher is also available with a Yanmar air cooled diesel engine with electric start for easy and efficient operation. The QP602 has a heavy duty wrap around frame for protection, eye bolt and four mounted handles for easy lifting.
"This Aussie 6" pump is a breakthrough in terms of quality, value and performance." said Farrugia. "The great fuel efficiencies, high volume transfer and heavy duty construction really make the QP602 an incredible pump" he said.
The QP602 comes with an unbeatable 5 year pump end warranty and 3 year Honda or 2 year Yanmar engine guarantees. With marine grade aluminium pump housing and a carbon ceramic mechanical seal, this pump is designed to last.