Aussie Pumps has Released a New Honda Engine Drive Pump
Farmers looking to pump agricultural chemicals, fertilisers or even seawater faster with a pump that won't rust or corrode, need look no further! Aussie has come up with a new Honda engine drive pump that will handle up to 1350 lpm flow and achieve maximum heads as high as 24 metres.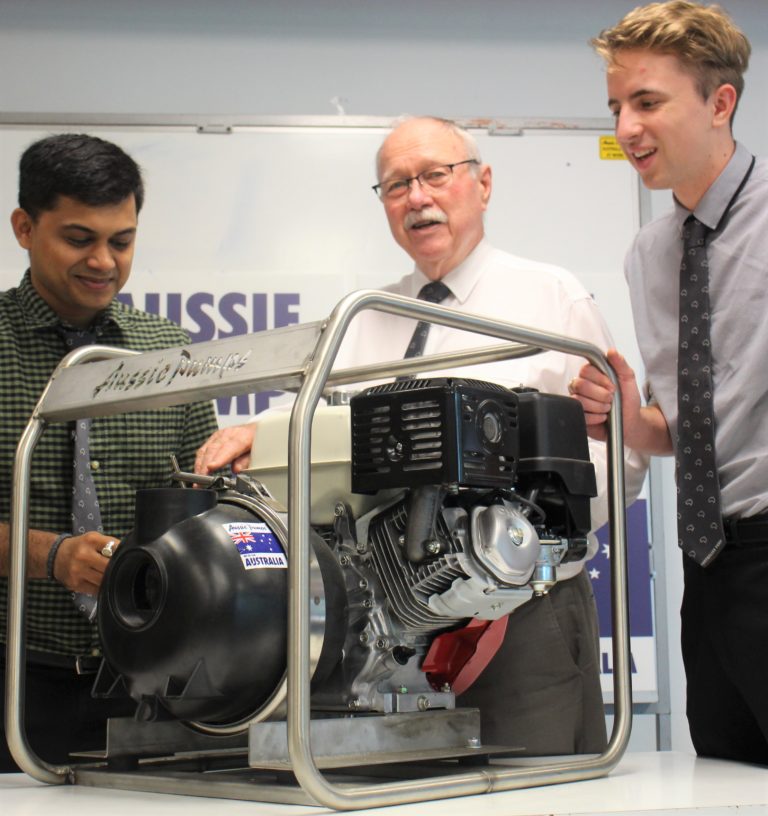 John Hales (middle) with Aussie's new 'Genius' Smart pump. (Image source: Aussie Pumps)
Best of all for farmers and aquaculturalists, the pumps are suitable for both agricultural chemical, including urea, but will also handle saltwater without issues.
Called the Aussie "Genius", the 3" pump self primes from a vertical lift of 6 metres and offers some unique and super smart features.  For example, the pump, driven by a 13hp Honda petrol engine, can also be offered with a 10hp Yanmar diesel.
The material of construction is 30% glass filled polyester with EPDM seals.  EPDM seals are a particular compound that handles seawater and agricultural chemicals, including a wide range of liquid fertilisers.
The pump, originally conceived by one of the world's leading self priming pump designers, has a stainless steel belly band that holds both parts of the pump (back and front) together.
"That means that opening the pump to clean it, flush it or unblock it is a matter of seconds, not minutes or hours", said Aussie Pumps Chief Engineer, John Hales.
The pump comes as standard equipment in a stainless steel frame, mounted on a sub base with anti-vibration mounts.  Being a self priming pump, priming is easy.  It's just a matter of filling the pump with water, checking to make sure there is no suction leaks on the coupling or suction line, then starting the engine
The company expects it to be a huge seller in the agricultural market where corrosive liquids are handled on a daily basis.
"We're getting lot of enquiries for diesel drive Genius pumps already", said Hales. "We're now looking at a hydraulic drive and bare shaft version as well, for some marine applications", he said.