Aurora Pump Launches HVAC End Suction Pump
The Aurora Pump 3800 Series is a single stage end suction pump with a standard, stainless steel impeller making it a cost-effective solution for today's liquid handling needs.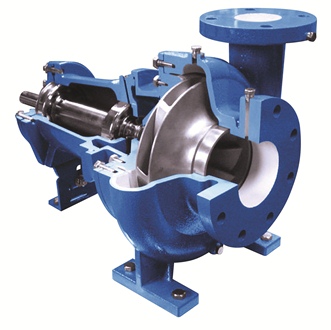 3800 Series (Image: Aurora Pump)
The 3800 boasts of superior efficiencies and increased application coverage with larger pump sizes, and the tougher, stainless steel impeller will last longer on the job no matter what liquid is applied.
Aurora Pump is building on 90 years of experience with design, manufacturing and sales of centrifugal pumps all leading up to the 3800 Series. The variety of liquids handled today has increased along with temperatures and pressures, which can add up to a shorter life span for a pump. The 3800 can withstand the chemicals commonly added to liquids today, and the stainless steel is less likely to interact with those chemicals than similar, bronze impellers. Today's installations demand quiet, smooth running pumps with long life. The 3800's clean, straightforward design was developed with maximum interchangeability in mind. Many of the 3800's parts such as seals, sleeves and power frames are interchangeable with Aurora's 340 Series giving customers maximum flexibility.
The 3800 comes into two models: the 3801 Close Coupled and the 3804 Flexible Couple-Frame Mounted with capacities up to 4200 G.P.M. (954 m3/hr), heads to 520 Feet (180 Meters) and temperatures to 300°F (149°C). Some of the additional features include four, larger power frame sizes allowing contractors and engineers to choose the 3800 for a wider variety of projects and applications. The variety of frame sizes ensures customers will find the ideal-size pump to handle the requirements of their specific project.
Maintenance time and effort on the 3800 pumps will be greatly improved with features such as casing feet for easy back pullout for servicing. The casing feet enables customers to leave their surrounding piping undisturbed when disconnecting the pump for maintenance or repair. The coupling guard feature also helps increase safety for maintenance personnel.
The Series 3800 features regreasable bearings, which can greatly increase the life of the bearings when properly maintained unlike sealed bearing options. The open bearings also allow for heat to escape extending its life and reducing replacement costs over the life of the pump. Product life is also increased with a double volute on 4-inch discharge and larger allowing for reduced bearing loads. The 3800 features a formed, steel base on the flex coupled design, and gauge taps on suction and discharge on flanged models allowing customers to install gauges directly on the pump without additional piping.