Atlas Copco's GA 15-26 kW Oil-injected Screw Compressors Get a Boost in Efficiency
Atlas Copco's updated GA 15-26 range is an economical and reliable solution for applications that require a constant flow of compressed air. This "fixed speed" oil-injected screw compressor offers improved Free Air Delivery at reduced power consumption and lower noise levels.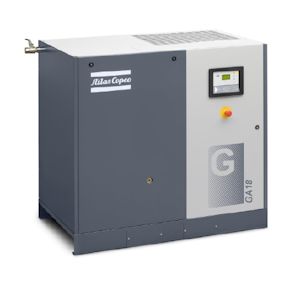 GA 15-26 kW oil-injected screw compressor (Image: Atlas Copco)
With its redesign, the GA 15-26 is built to be economical, reliable and efficient all at the same time. Compared to the previous GA 15-22 range, the new GA 15-26 offers increased performance (Free Air Delivery up with 5%) and lower power consumption (Specific Energy Requirement down with 2%). "For decades, our GA 15-22 has been the perfect solution for workshops, installation companies and OEMs all over the world. This oil-injected screw compressor is renowned for its reliability and low cost of ownership," says Bert Derom, Vice-President Marketing. "With this update, we did not touch any of these benefits, we just made our GA even better and extended the range to 26 kW."
Improved gear-driven drive train boosts Free Air Delivery
Major energy and performance improvements come from the GA's drive train, which features an IE3 motor (NEMA Class 1) and a new, in-house designed compressor element. Compared to belt-driven variants, the gear-driven GA 15-26 wins 3% in efficiency. Reduced pressure drops and improved cooling flow account for another 2% performance increase, bringing the total Free Air Delivery gain to 5% on average, over the complete range.
Less power consumption, less noise
The GA delivers more air at the same power consumption and does so in silence. The new drive train is more energy-efficient and also the new cooling fan consumes less and is quieter than its predecessor. Overall, the Specific Energy Requirement (SER) is improved with 2% on average. All these new components have reduced the sound level of these units to as low as 65 dB(A), making a major difference when the compressor is operated close to the point of use.
Flexibility in options
To tailor the GA 15-26 to any requirement a workshop may have, a wide range of options is available. They include integrated dryer and filters for high-quality air, a factory-mounted receiver and various solutions for extreme climates.