Atlas Copco Introduces PAS HardHat Dewatering Pump Range
Atlas Copco Power & Flow has launched two new PAS dewatering surface pumps with robust proprietary HardHat technology. The lightweight yet tough canopy means the innovative PAS 100 and PAS 150 pumps are durable and easy to service, providing excellent long-life high performance while minimizing downtime.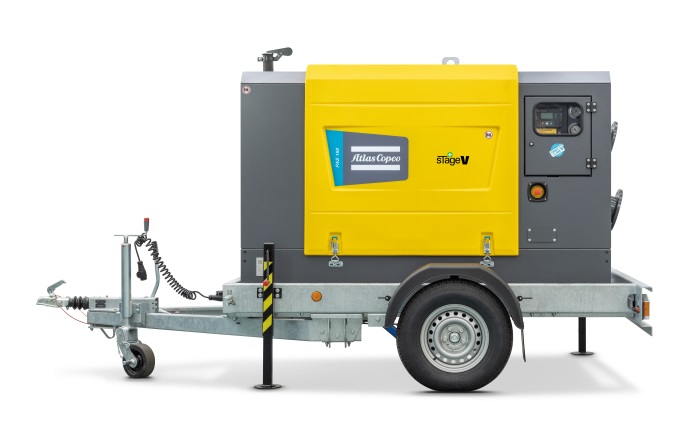 Atlas Copco introduces PAS HardHat dewatering pump range. (Image source: Atlas Copco AB)
The exclusive HardHat polymer is resistant to corrosion and the effects of extreme temperatures and harsh operating environments. As such, it is maintenance free. Furthermore, the canopy is resistant to discoloration, which is especially important for rental companies, as the equipment's resale value is maximized. Additionally, the HardHat doors can be painted in any colour depending on the customers' requirements.
Thanks to a novel Atlas Copco hinged door design on the pump itself, the pumps provide superior serviceability on site. All components are exceptionally easy to access for simple servicing and maintenance. The pump can be cleaned and restarted in just three minutes and serviced in under 60 minutes, which is 10 percent quicker than previous models.
"Our HardHat technology is a tough polyethylene resin material proven in the field to protect equipment's most vital and expensive core components. It has been incorporated on Atlas Copco's compressor and light tower range for over 15 years and we're delighted to now extend the technology to our PAS pumps so customers can better protect their investment," says Saksham Dube, Product Marketing Manager at Atlas Copco Power & Flow. "The canopy on the PAS pump range has traditionally been metal, however, we have worked closely with our customers to fully understand their needs for increased durability on site."
The compact and versatile pumps are easy to move around a site and provide continuous operation for 24 hours. The pumps feature an advanced PW series control panel, so the operator has total control over the application, as well as including Atlas Copco FleetLink telematic system. This intelligent telematics system allows operators to easily monitor and manage their entire fleets remotely.
The PAS pump range is designed for multiple applications, from dewatering on construction and mining sites to solids removal, drainage, and even emergency flooding situations.
The PAS pumps incorporate many design features to provide reliable, high performance pumping, and so operators can improve their efficiency and productivity. For example, mechanical shaft seals are set in an oil bath which enables dry running capability without damage. In addition, a semi-open impeller enables the pumps to handle solids of various sizes without the risk of clogging.
"We are committed to delivering sustainable value to our customers. At Atlas Copco, we are on a road to zero emissions," continues Saksham Dube. "Available with electronic engine, these pumps are compliant with the latest Stage V emission norms so operators can reduce emissions. These are also certified to work with HVO, the newest generation of biodiesel oil, to reduce the carbon footprint of the product itself."
The pumps are available in three package options – standalone, or with a galvanized undercarriage or skid – making them ideal for rental companies.