Atlas Copco Appoints Mark Keen to Lead Service Delivery
Atlas Copco has announced the appointment of Mark Keen as Business Line Manager for its Compressor Technique Service (CTS) division. In his new role, Mark will lead the delivery of the company's service proposition, which is designed to ensure customers gain the best possible performance from their air compressor systems over the long term.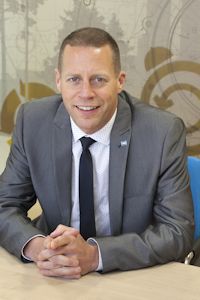 Mark Keen (Image: Atlas Copco)
In his new role, Mark will also seek to raise awareness among customers of the fact that, in addition to its broad offering of service contracts and genuine spare parts, Atlas Copco Compressors' service proposition includes a wide range of value-adding products, including AIRnet pipework, energy recovery systems, and monitoring and control products such as SmartLink and AIRScan.
More than nine years after joining Atlas Copco, Mark brings a wealth of experience and knowledge to his new role, leading a division that is integral to the company's commitment to its customers. A former apprentice with a string of engineering qualifications under his belt, he joined Atlas Copco initially as a Sales Engineer in the Industrial Air division, before joining Compressor Technique Service as Sales & Marketing Manager two years ago. His promotion sees him take responsibility for a large team and he is aiming to develop those staff members to create a sustainable model for continued success.
Mark, who values optimism and enthusiasm as important personal traits, is a married father of two with a keen interest in football.
In his new role, he succeeds the former Business Line Manager for Compressor Technique Service, Sean Fairest, who was recently appointed as Country Manager for Atlas Copco in Ireland.