Armstrong Wins Award for HVAC Innovation
Armstrong has received the prize for Air Conditioning Product of the Year at the H&V News Awards.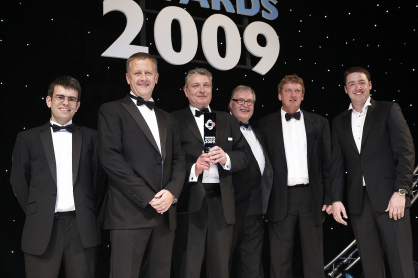 Left to right: Simon Duddy (Editor, H & V News), Iain Robertson (Joint MD, Lindab), Paul O'Gorman (Sales Development Director, Armstrong), Graham Lane (Thermal Transfer), Ian Rogers (Sales Development Manager, Armstrong) and Jason Manford. (Pic:Armstrong)
The H&V News Awards recognise outstanding skill and innovation of companies in the heating and ventilation industry. Product of the Year categories were judged on genuine innovation and aesthetic effect. Efficiency and the demonstration of commercial success are also factors taken into account.
The award-winning product was the Armstrong IPP-CHW Ultra-Efficient Chilled Water Integrated Plant Package, which is the most energy efficient solution available on the market today for chilled water applications in the 500 to 3600 kW range. It has been shown to provide operating plant efficiencies of around 7.8 COP (on an annual average basis). This applies not just to the chiller unit, but to the performance of the entire system.
Members of the Armstrong team were at the gala awards dinner at the Grosvenor House Hotel to receive the award.
Ian Rogers, Sales Development Manager for Armstrong, said, "Innovation is essential to achieve the levels of carbon reduction required for today's commercial buildings. Armstrong has continued to invest to bring new solutions to the market, and the IPP-CHW combines a number of different technology advancements within a single integrated plant package. We have been previous winners and runners-up in the H&V News Awards and are absolutely delighted to have been awarded the top accolade this year."