Armstrong Launches Pumpbox
The ultimate in pump system packaging has been launched by Armstrong. The new Pumpbox is a fully integrated, self-contained HVAC pumping solution, manufactured off-site, and housed in a compact thermally and acoustically insulated weatherproof enclosure.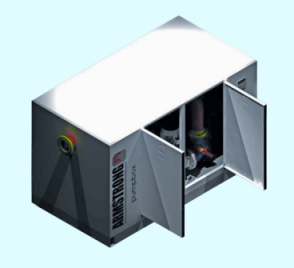 Armstrong
Incorporating maximum performance components such as Armstrong's 4300 Series vertical inline pumps, IVS variable speed drives with sensorless in-built inverters, suction guides, triple duty valves and controls, the Pumpbox has inherent energy-efficiency advantages over other systems. It is a fully-integrated solution, therefore all sub-systems and controls are matched and designed to work in harmony with water to wire efficiency optimized to ensure low operating costs.
Available with a range of 4300 Series pumps from 80mm to 200mm bore, with 2 pole or 4 pole motors up to 55kW and 60Hz frequencies, Pumpbox is ideal for a wide range of applications where it is a space-saving alternative to the traditional plant room. Positioning of the pump and other components within the enclosure is designed to minimize the footprint. Perfect to replace a dedicated walk-in plant room, Pumpbox eradicates the need for expensive and seldom-used maintenance space. The enclosure is particularly suitable for rooftop applications where space is at a premium.
Pumpbox is also extremely easy to access and maintain. The vertical inline pumps have split couplings that enable rapid seal changes to be carried out without the need to remove motors and rotating assemblies. This dramatically reduces downtime, with seal changes completed in minutes rather than hours with no need for lifting equipment. The enclosure is designed to allow routine maintenance through the side doors or major replacements facilitated through the roof.
Installation is extremely simple and fast. The complete Pumpbox is manufactured offsite and tested prior to delivery at site where it requires only final connections. It also has plug and play configuration which reduces the commissioning phase considerably.
Pumpbox is perhaps the easiest way available today of achieving variable speed drive energy efficiency without complicated and expensive system design. Self-contained, automatic control of pump speed ensures that building demands are met with the minimum energy requirement. There are two control options offered. Pumpbox can be controlled via a BMS system if the customer prefers or supplied with Armstrong's integral IPS controller.
Steve Cooper of Armstrong said, "With the arrival of Pumpbox it is now far easier and quicker to specify and install a HVAC pumping system. Everything you need to do the job is built into the box and arrives on site, when you need it, requiring only final connection. For many, many pumping applications this will be an ideal solution – reducing complexity, cost and diminishing the potential for problems."