Armstrong Fluid Technology Wins Top Award for Innovation at Dubai RetrofitTech Summit
Armstrong Fluid Technology has been recognized with a prestigious award at an international conference held recently in the United Arab Emirates.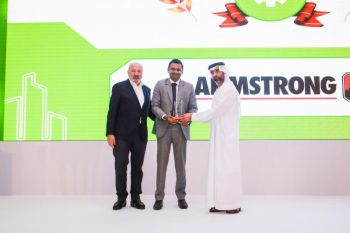 Pictured (left to right) are Mr. Albert Aoun, Chairman of IFP Group, Mr Rajmohan Govindarajan of Armstrong Fluid Technology and Mr. Ali Jasim, CEO of Etihad Esco at the RetrofitTech2018 Awards (Image: Armstrong)
The 4th Annual RetrofitTech Summit, which took place in Dubai this Spring, is a leading platform for energy efficient technologies, and the Summit's 2018 Awards recognize and celebrate industry-leading innovation and best practices.
The Armstrong Design Envelope Tango range of fully integrated parallel pumping modules was awarded top prize in the Best Innovation in Automation category, impressing judges with its outstanding levels of efficiency, supported by built-in Parallel Sensorless Pump Control. The motor efficiency (exceeding IE4), embedded intelligence and connectivity, and innovative design, combine to deliver energy savings of more than 30%.
Kevin Laidler, Armstrong's Sales Director, Middle East and Africa, commented, "Innovation drives our business, and we aim to create new HVAC products that combine environmental performance with lowest installed cost and the best return on investment. Specifiers and building owners in the UAE understand the importance of upgrading HVAC equipment to achieve world-class environmental performance, and this award recognizes Armstrong Fluid Technology's leading role in this endeavor. We are enormously proud to see one of these new product ranges celebrated as part of the RetrofitTech 2018 Awards".