Amarinth Secures Pump Order for Processing Facility in Algeria
Amarinth has secured an order from Groupement Berkine Sonatrach Anaderko for the El Merk processing facility in Algeria. The El Merk facility is in the southern part of the Berkine Basin which currently comprises four oil and gas fields and is located approximately 300 km southeast of Hassi Messaoud in a harsh remote area of the Algerian Sahara Desert.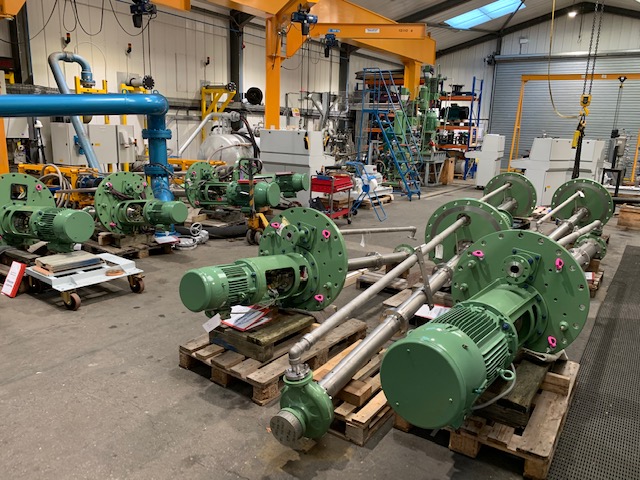 Amarinth API 610 VS4 vertical pumps undergoing testing before shipment (Image source: Amarinth Ltd.)
The El Merk mega project is expected to produce oil and natural gas for the next 30 to 40 years.
Although Amarinth has supplied pumps previously to both Sonatrach, the largest oil and gas exploration and production company in Algeria and Africa, and the El Mark facility, this order is the first taken by Itai Choto, Amarinth's recently appointed permanent Sales Manager for the Africa Territory, and underlines Amarinth's decision to invest further in Africa. The order is for an API 610 VS4 vertical pump for closed drain drum pump duties in one of the El Mark Oil Trains. The pump will be ATEX certified for use in the hazardous area.
In securing this order, Amarinth worked closely with UK Trade & Investment (UKTI). This UK Government Department helps UK-based companies succeed globally and has a strong focus on further strengthening the UK trade and investment relationship with Africa.
Oliver Brigginshaw, Managing Director of Amarinth, commented: "We are delighted that Itai Choto has taken his first order from Groupement Berkine Sonatrach Anaderko. With our recent focus and investment in the African Territory, and our proven ability to delivery API 610 pumps into the developing oil and gas projects, we are looking forward to continuing to work closely with all end-users, EPCs and contractors in the region."