Amarinth Refurbishes Critical Duty Titanium Pumps for ADNOC
Amarinth has refurbished sodium hypochlorite dosing pumps for ADNOC that were originally manufactured in titanium alloy using its UAE facility to meet strict shutdown deadlines.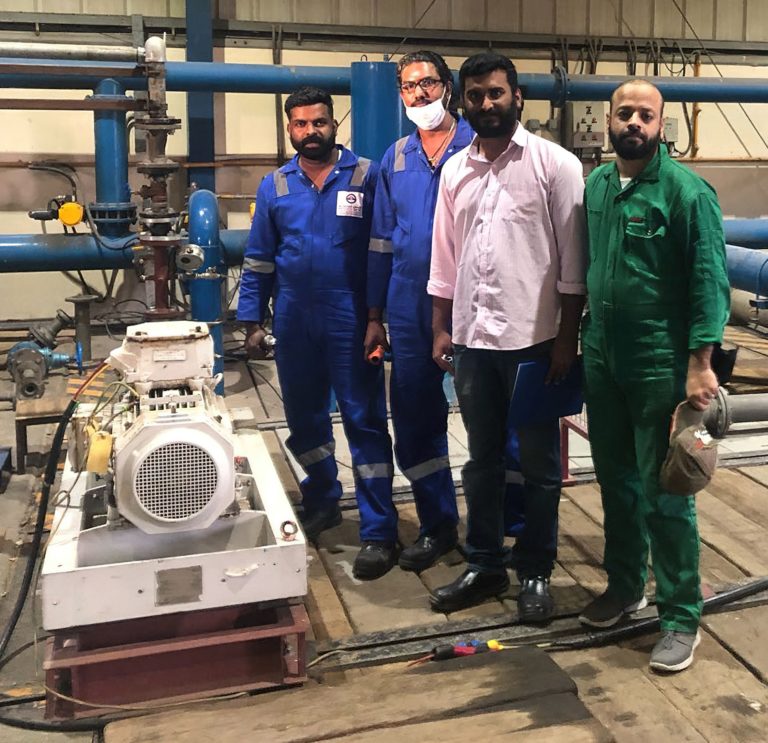 Engineers completing testing of a newly refurbished sodium hypochlorite dosing pump for ADNOC in the Amarinth UAE facility. (Image source: Amarinth Ltd.)
In 2016, Amarinth delivered pumps to ADNOC for sodium hypochlorite dosing duties on the Umm Lulu offshore platform located in the Arabian Gulf 30km north-west of Abu Dhabi, UAE. Sodium hypochlorite is highly corrosive and so traditional super-duplex materials could not be used. Drawing on its wealth of experience of casting and manufacturing in exotic materials, Amarinth supplied the original pumps with titanium alloy for all wetted parts.
During a routine capital assessment, ADNOC decided the pumps were due for refurbishment. The sodium hypochlorite dosing pumps are critical to production and so refurbishment had to align precisely with a specific shutdown schedule. Any delay in bringing the pumps back online would incur huge operating losses.
Amarinth has worked closely with ADNOC on numerous challenging projects and so when it was approached to refurbish the pumps but assessed that the shutdown schedule would not allow the pumps to be returned to the United Kingdom for a full strip, assessment and refurbishment, Amarinth proposed that it would use its UAE facility to undertake the work.
With a lower turnaround time plus the additional benefits of a reduced carbon footprint for not transporting the pumps to the United Kingdom, and an increase in work content staying within the UAE, ADNOC was happy to commission Amarinth to complete the work.
Amarinth's UAE facility was able to complete the strip and assessment report within five working days and propose two refurbishment projects. The first would see a full rebuild, test and warranty of the first pump replacing all the titanium components including impeller, shaft, bearing brackets and mechanical seals. This would need to be completed in just eight weeks. Amarinth prioritised the ordering of the titanium components using its comprehensive supply chain was able to have the parts manufactured and shipped to the UAE to align with the rebuild schedule. The second project would then undertake the same work on the other two backup pumps to be completed on a 24-week schedule.
Leveraging its renown business agility and creative approach to the challenges of the oil and gas industry, Amarinth was able to complete the refurbishment of the pumps on schedule, delivering fully tested and warrantied pumps that would enable ADNOC to continue production until its next scheduled capital assessment.
Oliver Brigginshaw, Managing Director of Amarinth, commented: "We are delighted that ADNOC selected Amarinth to refurbish these pumps. Having supplied the original pumps to ADNOC we have a wealth of experience in working with titanium components. We are also pleased with the growth of our local UAE facility for service and support and which enabled us to successfully expediate this particular refurbishment, benefiting both ADNOC and the local economy."