Amarinth Delivered Vertical Sump Pumps to Descon Engineering
Amarinth has delivered two bespoke super duplex API 610 VS4 vertical sump pumps to Descon Engineering for the Borouge petrochemicals complex in Ruwais, Abu Dhabi.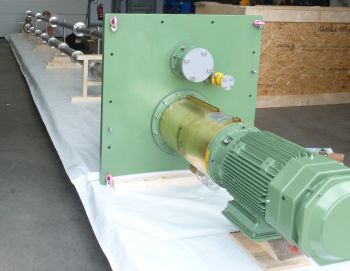 Amarinth 9.5m long API 610 VS4 vertical sump pump being packed ready for shipping to the Borouge petrochemicals complex in Ruwais, Abu Dhabi (Image: Amarinth)
Following a competitive tendering process, Amarinth secured its second order from Descon Engineering for two 9.5m long super duplex API 610 VS4 vertical sump pumps. These will be installed at the Borouge 3 plant in Ruwais, 250 kilometres west of Abu Dhabi city, during modification work on the existing header for the sea water intake. Borouge is a venture between the Abu Dhabi National Oil Company (ADNOC) and European plastics manufacturer Borealis. The Borouge site is now the world's largest integrated polyolefins complex, with production capacity of 4.5 million tonnes.
Amarinth won the contract for its expertise and reputation designing bespoke vertical pumps for challenging projects. The company utilised its own unique software, which is configured to handle over 100,000 vertical pump variants and includes assemblies and sub-assemblies that have already checked against mating parts for clashes, to deliver a design for the 9.5m long pump that would fit existing constraints.
The pumps include a bespoke baseplate and, due to their length, additional start-up lubrication for the top bearings which automatically switches off once the process feed has reached them. Amarinth also had to carefully size the pumps to be as efficient as possible in order to work within power limitations at the site.
Oliver Brigginshaw, Managing Director of Amarinth, commented: "We are delighted to have delivered these bespoke API 610 VS4 pumps to Descon Engineering for this significant project which further underlines our expertise in designing pumps for demanding duties. We look forward to working with Descon again on future projects."