Almatec Launches New C-Series AODD Pumps
Almatec, part of PSG, is pleased to announce the release of its new C-Series AODD pump. Ideally suited for virtually any pumping application where an oscillating pump can be found, C-Series pumps have been specifically developed to be a cost-effective alternative to similar plastic pumps while retaining the reliable and solid design typical of all Almatec pumps.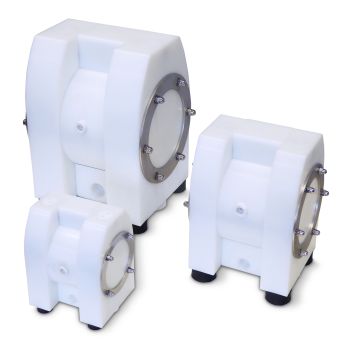 Almatec
What further separates the C-Series from competitive pumps is a unique design that enables the housing parts to be tightened to each other via housing bolts. Rather than using single bolts that press against the housing, all of the C-Series' bolts are tightened together against a diaphragm-sized ring on each side of the pump. This design distributes the forces of the housing bolts onto the housing parts evenly, providing a consistent flow of forces that increases bolt torque and improves pump safety. The design of C-Series pumps also ensures the suction and discharge ports are available as separate housing parts so that different connection versions are available for easy matching to existing installations. In addition, these pumps provide good suction head, and feature self-priming and dry run capabilities.
The C-Series features Almatec's exclusive Perswing P® air control system, which offers superior efficiency when comparing flow rate and air consumption needed that translates into lower energy costs. The C-Series also features no mechanical seals, drives or rotating parts that cause wear over time. All wear parts are compatible with other Almatec pumps.
C-Series pumps are available in three pump sizes – C 10 (3/8"), C 15 (1/2") and C 25 (1") – and achieve flow rates from 1.3 to 7 m3/h at a maximum discharge pressure of 7 bar (100 psig). The wetted housing parts of the C-Series are made of either abrasion-resistant polyethylene or chemically, almost universally resistant, PTFE. The material of the non-wetted center block is polyethylene or PE conductive. Additionally, C-Series pumps are available in versions that conform to ATEX requirements according to the 2014/34/EU directive.