Almatec AD 6 Pneumatic Diaphragm Pump Meets the Needs of Laboratory Operations
Almatec has announced that its AD 6 Pneumatic Diaphragm Pump has been developed for use in laboratory applications. The AD 6 pump meets these diverse needs because they have been designed to handle a maximum delivery volume of 250 lph (66 gph), with the delivery volume able to be adjusted just by changing the air flow.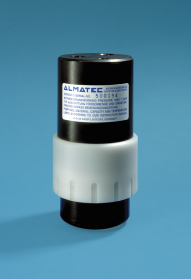 AD 6 Pneumatic Diaphragm Pump (Photo: Almatec)
AD 6 pumps are equipped with spring-loaded valves and can be installed in any position.
The AD 6 pump's housing is constructed of solid PTFE conductive, making it corrosion-resistant to virtually all media, while its conductivity permits use of the pump in explosion-hazard areas and with inflammable liquids. In fact, the AD 6 pump meets all ATEX requirements for the directive 94/9/EG.
Additional features include submersible operation; dry-lift capabilities; proof against overloading and dry-running; the presence of Almatec's patented maintenance-free air-control system (PERSWING P) without a dead center; PTFE diaphragms; gentle liquid displacement; acceptable use in unattended continuous tests; the ability to pull samples from wells up to 50 meters (164 feet); and optional connection kits for laboratory and sample pulling.