Allweiler's Pump Skid Division Awarded Large International Orders
Allweiler AG will deliver eight fuel skids and eight purge-water facilities for a new power plant in Kuwait. Allweiler will also help enlarge an existing power plant in Indonesia with the addition of six fuel skids. The company overcame strong international competition in order to win these two orders, worth a total of 2.7 million euros. This order volume is one of the largest since Allweiler's pump skid division was formed.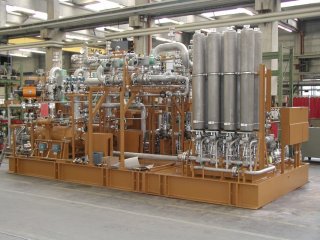 Az Zour, Kuwait
The German pump specialist will provide all fuel skids and rinsing-water facilities for the Az Zour power plant, located approximately 80 kilometers south of Kuwait's capital. The power plant can run on both natural gas and petroleum. When completed in 2005, it will feed additional power into the Kuwaiti power grid. The contractor for the power plant is the Power Generation Group of Siemens AG in Erlangen, Germany.
Allweiler AG's many years of experience and outstanding price/performance ratio were major factors in the customer's decision. The Kuwaiti ministry for electricity and water resources selected Siemens to be the general contractor for the project. The existing plant in Muara Tawar, Indonesia (25 km northeast of Jakarta) will be enlarged with six new gas turbines that will produce 150 Megawatts of power each. The new plants will be run on heating oil and are expected to go into operation in April 2004. The customer is Java-Bali Power. Allweiler AG will provide six fuel skids for this project. The company won the Indonesian contract thanks to their specialized knowledge of selected pumps and valves used in fuel skids as well as their reputation for meeting deadlines.
Fuel skids are a central aspect of Allweiler AG's pump skid division. Johann Engelmann, Director of Sales and Service, offers his perspective: "These two big orders prove that Allweiler AG is still very competitive on an international level, even in a difficult economic climate. The orders give us a strong presence in the pump skid market." As a result, Mr. Engelmann expects Allweiler to expand its international business by participating in other big projects, especially with Siemens AG as a partner. Fuel skids are important because they pump oil at high pressure into the gas turbine's combustion chambers. The rinsing water facilities use small injectors to regularly rinse out the combustion chambers, thereby removing deposits from the burners. Allweiler screw pumps and centrifugal pumps constitute the core of both skid systems. They are proven over many years of practical application and can be adapted to meet the individual requirements
of each situation.
Picture: Allweiler