Allweiler Supplies Heaviest Lubricating Modules for Hitachi
Babcock-Hitachi Europe GmbH (BHE) is expanding its two Hungarian brown-coal and gas power stations, Matra and Nyiregyhaza, with a total of three Hitachi gas turbine systems. The Plant Construction Division of Allweiler AG is to supply the lubricating oil plants for all of the turbines.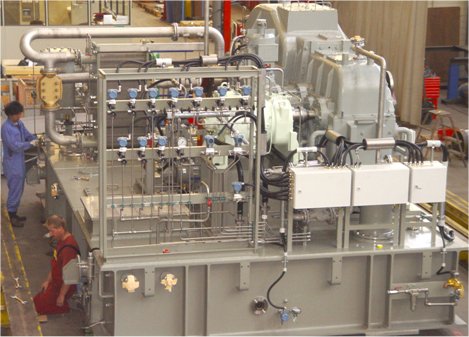 Allweiler will install these modules ready-for-use, complete with gearbox, torque converter and starter motor. Allweiler centrifugal pumps will be used to pump the lubricating oil. With an empty weight of around 85 t, the plants are the heaviest that Allweiler has built to date.
The lubricating oil plants, as gearbox package, connect the gas turbines to the generators. They are completely constructed and assembled by Allweiler. In addition to the gearboxes supplied by Hitachi, the complete electrical and control systems are also included. In each module, three centrifugal pumps in the NSSV series pump the lubricating oil from the 10,000 l tank. The pump capacity of each of these pumps is up to 1,000 l/min.
"We won this order for two fundamental reasons," says Stefan Kleinmann, Plant Construction Director at Allweiler. "Firstly, because we have already supplied many similar plants for other turbine manufacturers, the second decisive factor was that we have already worked with Hitachi on the development of the new H-25AX turbine in Situ in Japan." The order value is around one million Euro. The last module left the factory in August 2006, around six months after order placement.
Lubricating oil plants are part of the core business of the Plant Construction Division of Allweiler AG. Johann Engelmann, Plant Sales and Service Director: "Optimal coordination of components and many years of experience are very important. With our specialists and manufacturing techniques, we can guarantee both of these factors."
The lubricating oil modules supply the turbines, gearbox and generators with lubricating oil, which filters, ventilates and cools the plant continuously and automatically. Lubricating oil modules are VIC components ("very important components") in power stations, as their reliable operation is essential for safe and continuous power generation. A breakdown would result in damages running into millions.