Allweiler Introduces Redesigned Progressing Cavity Pump
With its quick-change design, the OptiFix progressing cavity pump is also valued for its ability to save money. Its new service solution offers the shortest average repair time in its class.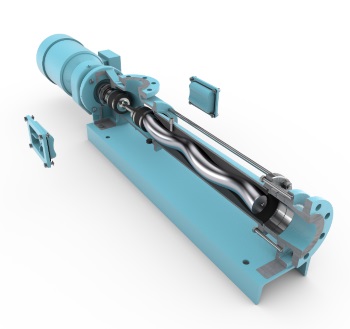 With a focus on simplicity and efficiency, OptiFix s easy exchange design is fully optimized for safe and streamlined inspections, parts removal and service operations.(Image: Allweiler)
This results in less downtime, reduced maintenance, and lower service costs. "OptiFix can reduce service times by as much as 85%. Thanks to its patented design, this pump can be serviced, repaired, and retrofitted in a fraction of the normal time. The pump s rotor and stator can be removed without dismantling the discharge and suction casings," according to Gunter Connert. "If combined with the patented ALLDUR stator, service life can be increased by up to 500 %."
Allweiler, a CIRCOR Business Unit, is looking forward to the 2019 Hanover Fair. The Allweiler booth (Hall 15, Booth G43) will focus on the redesigned OptiFixT progressing cavity pump, a next-gen maintenance solution designed to save money.
Allweiler s team of experts will demonstrate its functionality by guiding visitors through the five easy steps to dismantle the pump. The IN-1000 Condition and Operation Monitoring System will also be on display to show visitors how they can improve safety and simultaneously reduce operating costs. The IN-1000 is now also available with ATEX certification for EX zones.