ALLWEILER in Bottrop Wins Large International Order
Allweiler AG has been chosen to deliver twenty specialized pumps to Nigeria. These pumps will be part of a major project to expand and renovate an oil pumping terminal.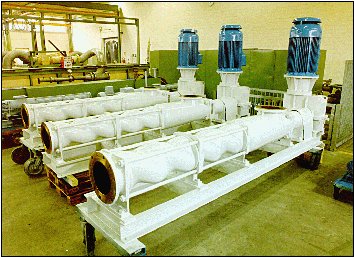 To win the contract, Allweiler first had to defeat some tough international competition. This is the single largest contract awarded to the Bottrop plant since 1980.
The contract awarded to this Bottrop pump specialist is for the delivery of twenty emulsion transfer pumps. These pumps move sandy oil/water mixtures that are common in crude oil applications. For process reasons, these mixtures must be pumped in an especially gentle manner and without causing additional mixing.
The eccentric spiral pumps, specially designed and produced in Bottrop, are ideally suited to fulfilling these requirements. They are designed with a special pumping geometry that enables very high volumetric efficiency.
However, they simultaneously permit high pump pressures, prevent return flows in the pump, and avoid further mixing of the sand/oil/water emulsions, which would make the subsequent separation of the three components more difficult.
Allweiler expects to deliver the twenty pumps in October 2003. It is the largest single order that the Bottrop plant of Allweiler AG has received in the last twenty years. The pumps will be used in the renovation and expansion of the Bonny oil terminal, located in the Niger river delta approximately 48 km southeast of Port Hartcourt. Shell will operate the terminal.
Werner Stegmann from the Allweiler export department had this to say: "Our existing references at the Shell Group and other positive experiences with this application were major aspects of the customer's decision to purchase from Allweiler AG. We were able to secure this order despite tough competition from every other major international manufacturer." The general contractor and client of Allweiler AG is Hyundai Heavy Industries Co., Nigeria Ltd.