Allweiler Delivers its Largest Propeller Pump to Russia
Uralkali, Russia's leading chemical company, ordered from Allweiler AG the largest propeller pumps that the company has ever produced. The seven pumps move potash salt-suspension needed in the production of fertilizer.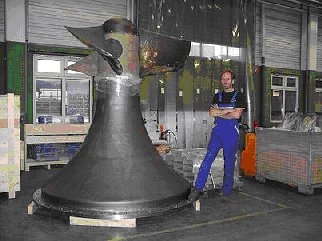 A rotor of the Allweiler PPUVR-2100 propeller pump, before its shipment to Russia. With a pumping capacity of 35,000 m3/hour, they are the largest propeller pumps ever produced by Allweiler (photo: Allweiler).
Allweiler AG delivered in February 2005 the last two of seven complete agitator pumps for the company Uralkali in Berezniki, Russia (Ural region). The pumps were part of the largest order Allweiler ever received from this country. Uralkali is Russia's most important fertilizer conglomerate and one of the largest manufacturers of potash fertilizer in the world, serving Russia in addition to 50 export markets around the globe. The company is currently upgrading its production equipment as part of a large investment project.
The pumps of type "PPUVR-2100" are the largest propeller pumps every produced by Allweiler. They are used with reactors in the evaporation process, and with a 160-kW drive, these units have enough power to move 35,000 cubic meters of liquid per hour. The order comprised included of these pumps and all of the related drive components. The pumps feed potash salt-suspension (in water) with 60 percent dry solid.
Allweiler's sales manager for Eastern Europe is pleased with the order: "Allweiler prevailed in the face of strong competition because it possesses decades of know-how with axial pumps and because of the superior hydraulic efficiency of the pump units, which were developed especially for Uralkali. The new pumps greatly improve the plant's energy efficiency and operational safety." Allweiler's Russian sales partner, the company ALLRUS, played a strong role in winning the order by acting as a competent local contact for the customer.
This major order clearly demonstrates Allweiler's competency as a manufacturer of chemical pumps. Other highlights of the Allweiler product line for chemical applications are chemical standard pumps of the Allchem series, magnetically-coupled pumps of the Allmag series, progressing cavity pumps, peristaltic pumps, and, most recently, gear pumps from Zenith, a pump manufacturer that the Colfax Corporation recently acquired in the United States.